Antenna
Detachable Type
To remove the antenna, turn it counterclockwise.
To install the antenna, turn it clockwise.
Make sure the antenna is securely installed.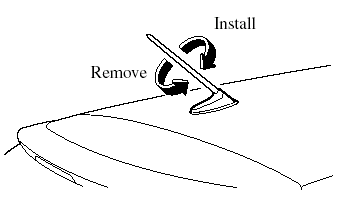 Type A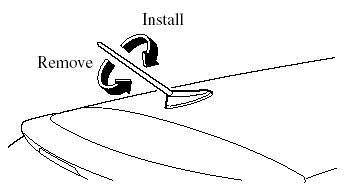 Type B
CAUTION:


To prevent damage to the
antenna, remove it before entering a car wash facility or passing beneath a low overhead clearance.

Be careful around the antenna
when removing snow from the roof. Otherwise the antenna could be damaged.
NOTE:
When leaving your vehicle unattended, we recommend that you remove the antenna and store it inside the vehicle.
See also:
Money-Saving Suggestions
How you operate your Mazda determines how far it will travel on a tank of fuel. Use these suggestions to help save money on fuel and repairs. - Avoid long warm-ups. Once the engine runs smoothly, ...
After Getting In
- Are all doors closed and locked? - Is the seat adjusted properly? - Are the inside and outside mirrors adjusted? - Is everyone's seat belt fastened? - Check all gauges. - Check all warning lig ...
Vehicle Information Labels
Vehicle Identification Number The vehicle identification number legally identifies your vehicle. The number is on a plate attached to the left top side of the dashboard. This plate can easily be ...