Mazda CX-9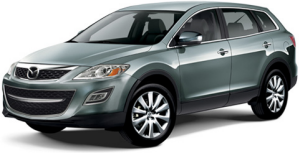 The Mazda CX-9 is available in Sport, Touring and Grand Touring trims.
See also:
Vehicle Overview
The Mazda Tribute, a sibling to the Mercury Mariner and Ford Escape, got a significant exterior and interior face-lift for 2008. For 2009, Mazda made a slew of mechanical changes designed to impro ...
Brake System
Foot Brake Your Mazda has power-assisted brakes that adjust automatically through normal use. Should power-assist fail, you can stop by applying greater force than normal to the brake pedal. But ...
Engines
The new Mazda Tribute retains the 3.0-litre petrol V6 engine, which delivers superior engine performance and smooth engine operation. New to the line up is a 2.3-litre 110 kW/150 PS MZR petrol, rep ...