Storage Compartments
WARNING:
Keep storage boxes closed when driving:
Driving with the storage boxes open is dangerous. To reduce the possibility of injury in an accident or a sudden stop, keep the storage boxes closed when driving.
CAUTION:
Do not leave lighters or eyeglasses in the storage boxes while parked under the sun. A lighter could explode or the plastic material in eyeglasses could deform and crack from high temperature.
Overhead Console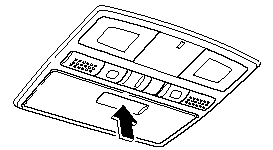 This console box is designed to store a garage door opener or other accessories.
Push and release to open.
Storage Pocket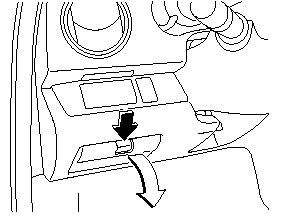 To open, push the release catch down and pull the lid downward.
Glove Box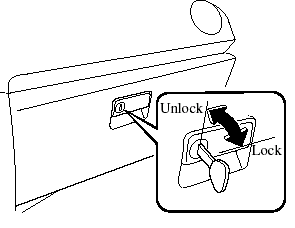 To open the glove box, pull the latch toward you.
Insert the key (auxiliary key*) and turn it clockwise to lock, counterclockwise to unlock.
* Advanced key equipped vehicle
Center Console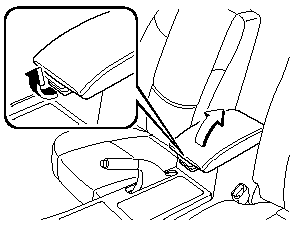 To open, pull the lower release handle.
Storage tray
The storage tray can be installed to the front/back side of the center console.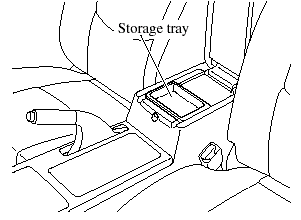 Installing to the front side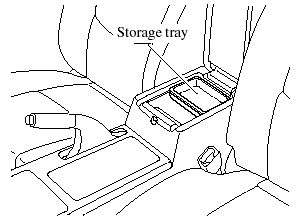 Installing to the back side
Using the armrest
CAUTION:
When sliding the armrest, be careful not to hit a drink cup placed in a cup holder and spill its contents. Remove cups or other drink containers from the cup holders before pulling out the armrest.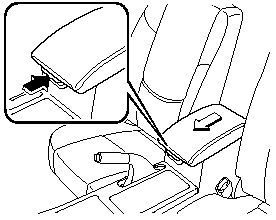 Press the button to slide the armrest frontward.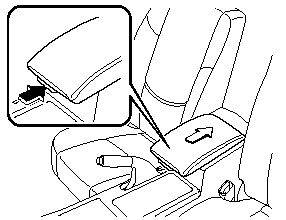 When storing the armrest, press and hold the button while pulling the armrest back, and remove your hand once it is in its stored position.
Shopping Bag Hook
The shopping bag hook can be used for hanging shopping bags.
CAUTION:
Do not hang excessive weight on the shopping bag hook as it could be damaged.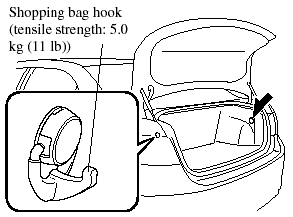 Rear Coat Hooks
WARNING:
Never hang heavy or sharp objects on the assist grips and coat hooks: Hanging heavy or sharp-ended objects such as a coat hanger from the assist grips or coat hooks is dangerous as they can fly off and hit an occupant in the cabin if a curtain air bag was to deploy, which could result in serious injury or death.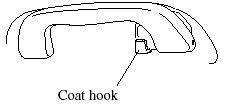 Always hang clothes on the coat hooks and the assist grips without hangers.
See also:
Suspension and Steering
The new Mazda Tribute retains the chassis system that delivers a superb combination of handling stability and ride comfort both on and off-road. The front suspension employs a MacPherson strut sys ...
Hands-Free Telephone Setting
qMobile phone Mobile phone registration For the registration of a Bluetooth equipped mobile telephone to Bluetooth Hands-Free, refer to "Bluetooth Hands- Free preparation". Registered mobile pho ...
Washer Fluid
InspectingWasher Fluid Level WARNING: Use only windshield washer fluid or plain water in the reservoir: Using radiator antifreeze as washer fluid is dangerous. If sprayed on the windshield, it w ...