Towing Description
We recommend that towing be done only by an Authorized Mazda Dealer or a commercial tow-truck service.
Proper lifting and towing are necessary to prevent damage to the vehicle.
Government and local laws must be followed.
A towed vehicle usually should have its drive wheels (front wheels) off the ground. If excessive damage or other conditions prevent this, use wheel dollies.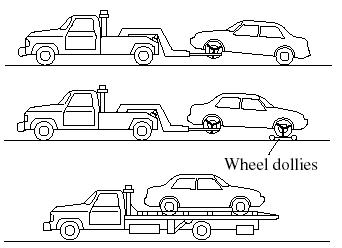 When towing with the rear wheels on the ground, release the parking brake.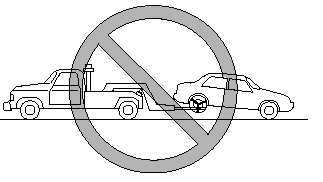 CAUTION:
Do not tow the vehicle pointed backward with driving wheels on the ground. This may cause internal damage to the transaxle.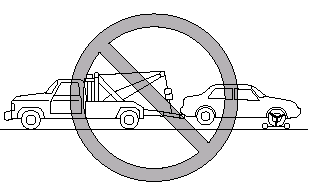 CAUTION:
Do not tow with sling-type equipment. This could damage your vehicle. Use wheel-lift or flatbed equipment.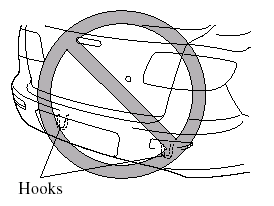 CAUTION:
Do not use the hooks under the rear bumper for towing and tying down, as they cannot hold the load and it will damage the bumper.
See also:
Cargo & Towing
If it's not carrying six occupants, the Mazda5's measly cargo area can be expanded to 44 cubic feet by folding the third-row seat down. Fold the second- and third-row seats and there's 70.9 cubic ...
How to Minimize Environmental Paint Damage
The paintwork on your Mazda represents the latest technical developments in composition and methods of application. Environmental hazards, however, can harm the paint's protective properties, if ...
Fog Lights
Use this switch to turn on the fog lights. They help you to see as well as to be seen. To turn the fog lights on, rotate the fog light switch to the position. The headlight switch must be in the ...