Specifications
Engine

Electrical System

*1 ex factory
CAUTION.
When cleaning the iridium plugs, do not use a wire brush. The fine particulate coating on the iridium alloy and platinum tips could be damaged.
Lubricant Quality

Capacities
(Approximate Quantities)

Check oil and fluid levels with dipsticks or reservoir gauges.
Dimensions

Weights
(Manual transaxle)

(Automatic transaxle)

Air Conditioner

Light Bulbs
Exterior light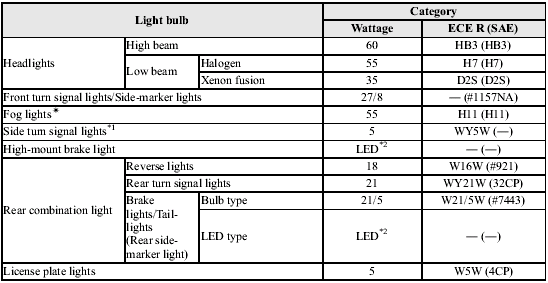 *1 Bulb replacement is not possible because it is built into the unit. Replace the unit.
*2 LED is the abbreviation for Light Emitting Diode.
Interior light

Tires
NOTE.
The tires have been optimally matched with the chassis of your vehicle.
When replacing tires, Mazda recommends that you replace tires of the same type originally fitted to
your vehicle. For details, contact an Authorized Mazda Dealer.
Check the tire pressure label for tire size and inflation pressure.
Refer to Tire Inflation Pressure.
Standard tire

Temporary tire

Fuses
Refer to the fuse rating.
See also:
Traction Control System (TCS)
* Some models. The Traction Control System (TCS) enhances traction and safety by controlling engine torque and braking*. When the TCS detects driving wheel slippage, it lowers engine torque and ...
Ignition Switch
Auxiliary key (with advanced key) NOTE: When starting the engine using the advanced key, refer to Starting the Engine. When starting the engine with the auxiliary key, perform the following pr ...
MX-5 Miata in the Market
The Miata is one of those cars that we're happy to see enter the Cars.com garage and sad to see go because it reminds us how much fun driving can be. The fact that it's relatively affordable is ju ...