Engine Oil
NOTE.
Changing the engine oil should be done by an Authorized Mazda Dealer.
Recommended Oil
Use SAE 5W-20 engine oil.
Oil container labels provide important information.
A chief contribution this type of oil makes to fuel economy is reducing the amount of fuel necessary to overcome engine friction.
U.S.A. and CANADA

Only use oils "Certified For Gasoline Engines" by the American Petroleum Institute (API). An oil with this trademark symbol conforms to the current engine and emission system protection standards and fuel economy requirements of the International Lubricant Standardization and Approval Committee (ILSAC), comprised of U.S. and Japanese automobile manufacturers.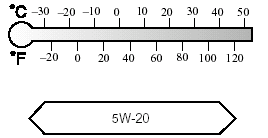 Except U.S.A. and CANADA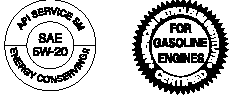 Mexico (ILSAC)

Use SAE 5W-20 engine oil. If SAE 5W-20 engine oil is not available in your market. Use SAE 5W-30 engine oil.
The quality designation SM, or ILSAC must be on the label.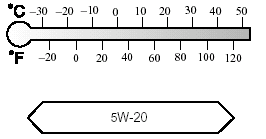 Inspecting Engine Oil Level
1. Be sure the vehicle is on a level surface.
2. Warm up the engine to normal operating temperature.
3. Turn it off and wait at least 5 minutes for the oil to return to the oil pan.
4. Pull out the dipstick, wipe it clean, and reinsert it fully.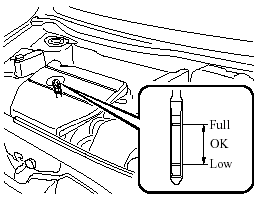 5. Pull it out again and examine the level.
It's OK between MIN and MAX.
But if it's near or below MIN, add enough oil to bring the level to MAX.
CAUTION.
Don't add engine oil over MAX. This may cause engine damage.
6. Make sure the O-ring on the dipstick is positioned properly before reinserting the dipstick.
The distance between MIN and MAX on the dipstick represents the following:
Oil capacity
L (US qt, Imp qt)
0.75 (0.79, 0.66)
See also:
Tire Labeling
Federal law requires tire manufacturers to place standardized information on the sidewall of all tires. This information identifies and describes the fundamental characteristics of the tire and ...
CX-7 in the Market
The CX-7 sells in much smaller numbers than the popular CR-V and RAV4. Up until now, its turbocharged engine has made it a unique offering in the small crossover segment, but the CX-7's appeal now ...
Comfort and Ease-of-Use
The cabin of the Mazda MX-5 facelift model offers enhanced comfort. The door cupholders, for instance, do not protrude into the cabin anymore, which provides more space to the occupants' legs. The ...