Tiedown Hooks
CAUTION.
Don't use the tiedown hooks under the front and rear for towing.
They are designed ONLY for tying down the vehicle when it's being transported. Using them for towing will damage the bumper.
Tiedown Hook-Front
1. Remove the tiedown eyelet, lug wrench, and jack lever from the trunk.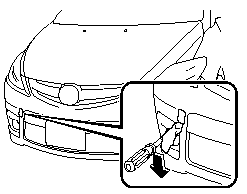 2. Wrap the jack lever with a soft cloth to prevent damage to the bumper and open the cap located on the front bumper.
CAUTION.
The cap cannot be completely removed. Do not use excessive force as it may damage the cap or scratch the painted bumper surface.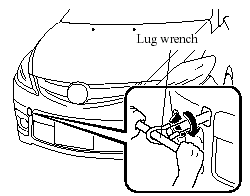 3. Securely install the tiedown eyelet using the lug wrench.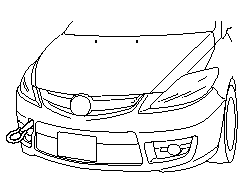 4. Hook the tying rope to the tiedown eyelet.
CAUTION.
If the tiedown eyelet is not securely tightened, it may loosen or disengage from the bumper when tying down the vehicle. Make sure that the tiedown eyelet is securely tightened to the bumper.
Tiedown Hooks-Rear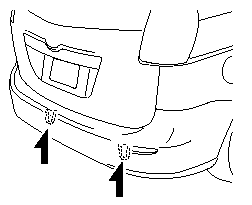 See also:
Money-Saving Suggestions
How you operate your Mazda determines how far it will travel on a tank of fuel. Use these suggestions to help save money on fuel and repairs. - Avoid long warm-ups. Once the engine runs smoothly, ...
Pedestrian Protection
Mazda 6 facelift has an energy-absorbing space between the bonnet and the engine, and structures for impact energy absorption in the cowl grille and fender brackets, which mitigate the chance of s ...
Towing Description
We recommend that towing be done only by an Authorized Mazda Dealer or a commercial tow-truck service. Proper lifting and towing are necessary to prevent damage to the vehicle. Government and l ...