How to Use This Manual
We want to help you get the most driving pleasure from your vehicle. Your owner's manual, when read from cover to cover, can do that in many ways.
Illustrations complement the words of the manual to best explain how to enjoy your Mazda. By reading your manual, you can find out about the features, important safety information, and driving under various road conditions.
The symbol below in this manual means УDo not do thisФ or УDo not let this happenФ.

Index: A good place to start is the Index, an alphabetical listing of all information in your manual.
You'll find several WARNINGs, CAUTIONs, and NOTEs in the manual.
WARNING:
A WARNING indicates a situation in which serious injury or death could result if the warning is ignored.
CAUTION:
A CAUTION indicates a situation in which bodily injury or damage to your vehicle, or both, could result if the caution is ignored.
NOTE:
A NOTE provides information and sometimes suggests how to make better use of your vehicle.
The symbol below, located on some parts of the vehicle, indicates that this manual contains information related to the part.
Please refer to the manual for a detailed explanation.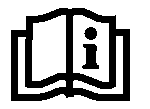 See also:
Light Bulbs
WARNING: Do not replace the xenon fusion bulbs yourself: Replacing the xenon fusion bulbs yourself is dangerous. Because the xenon fusion bulbs require high voltage, you could receive an ele ...
MX-5 Miata in the Market
The Miata is one of those cars that we're happy to see enter the Cars.com garage and sad to see go because it reminds us how much fun driving can be. The fact that it's relatively affordable is ju ...
Interior
The CX-7 seats up to five. The dashboard features double-decker construction, with a large information display at the base of the windshield. Folding down the rear seats provides a nearly flat loa ...