Antenna
Detachable Type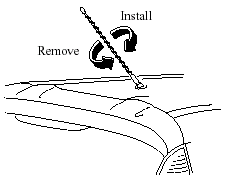 To remove the antenna, turn it counterclockwise.
To install the antenna, turn it clockwise.
Make sure the antenna is securely installed.
CAUTION.

To prevent damage to the
antenna, remove it before entering a car wash facility or passing beneath a low overhead clearance.

Be careful around the antenna
when removing snow from the roof. Otherwise the antenna could be damaged.
NOTE.
When leaving your vehicle unattended, we recommend that you remove the antenna and store it inside the vehicle.
See also:
Your Vehicle at a Glance
Interior, exterior views and part identification of your Mazda. ...
Body Lubrication
All moving points of the body, such as door and hood hinges and locks, should be lubricated each time the engine oil is changed. Use a nonfreezing lubricant on locks during cold weather. Make sur ...
Mazda MX-5 2009
If you don't like fun, if you prefer to mope about and wallow in your own misery, you're going to have to skip the Mazda MX-5. That might seem easy, because you probably don't know that "MX-5 ...