Sunvisors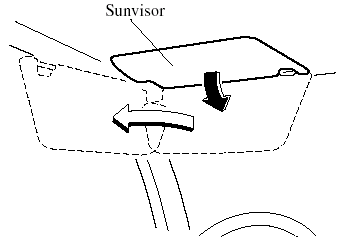 When you need a sunvisor, lower it for use in front or swing it to the side.
Vanity Mirrors
To use the vanity mirror, lower the sunvisor.
If your vehicle is equipped with a vanity mirror light, it will illuminate when you open the cover.
See also:
Specifications
Engine Electrical System *1 ex factory CAUTION: When cleaning the iridium plugs, do not use a wire brush. The fine particulate coating on the iridium alloy and platinum tips could be damaged. ...
Introduction
Be extremely careful and prevent injury to yourself and others or damage to your vehicle when using this manual for inspection and maintenance. If you're unsure about any procedure it describes, w ...
Outside the United States
Government regulations in the United States require that automobiles meet specific emission regulations and safety standards. Therefore, vehicles built for use in the United States may differ fr ...