Turn and Lane-Change Signals
Turn Signal
Move the signal lever down (for a left turn) or up (for a right turn) to the stop position. The signal will self-cancel after the turn is completed.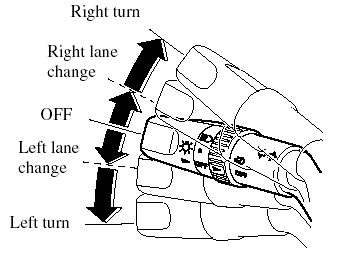 If the indicator light continues to flash after a turn, manually return the lever to its original position.
Green indicators on the dashboard show which signal is working.
Lane-change signals
Move the lever slightly toward the direction of the change ―until the indicator flashes― and hold it there. It will return to the off position when released.
NOTE:
If an indicator light stays on without flashing or if it flashes abnormally, one of the turn signal bulbs may be burned out.
See also:
How the SRS Air BagsWork
Your Mazda is equipped with the following types of SRS air bags. SRS air bags are designed to work together with the seat belts to help to reduce injuries during an accident. The SRS air bags ar ...
Light Bulbs
WARNING: Do not replace the xenon fusion bulbs yourself: Replacing the xenon fusion bulbs yourself is dangerous. Because the xenon fusion bulbs require high voltage, you could receive an ele ...
Convertible Commentary
As mentioned, our test car had the retractable-hardtop roof, and Mazda's implementation of this type of roof has a few advantages over those from other manufacturers. First of all, it's fast; it ...