Turn and Lane-Change Signals
Turn Signal
Move the signal lever down (for a left turn) or up (for a right turn) to the stop position. The signal will self-cancel after the turn is completed.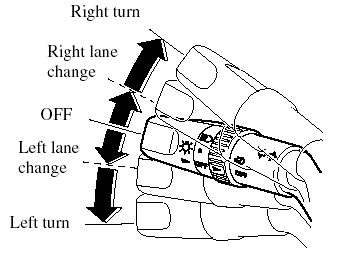 If the indicator light continues to flash after a turn, manually return the lever to its original position.
Green indicators on the dashboard show which signal is working.
Lane-change signals
Move the lever slightly toward the direction of the change ―until the indicator flashes― and hold it there. It will return to the off position when released.
NOTE:
If an indicator light stays on without flashing or if it flashes abnormally, one of the turn signal bulbs may be burned out.
See also:
CX-7 in the Market
The CX-7 isn't the first crossover on the market by a long shot, and there are a slew of others that will join it shortly. The Ford Edge borrows a lot of Mazda technology and will be out this fall ...
Tire Pressure Monitoring System
* Some models. The tire pressure monitoring system (TPMS) monitors the pressure for each tire. If tire pressure is too low in one or more tires, the system will inform the driver via the warnin ...
Going & Stopping
You wouldn't believe how many shoppers out there think a V-6 is always superior to a four-cylinder engine, no matter what. I bet a lot of people will discount the CX-7 because it has a four-cylind ...