Your Vehicle at a Glance
Interior, exterior views and part identification of your Mazda.
Dashboard and Interior Overview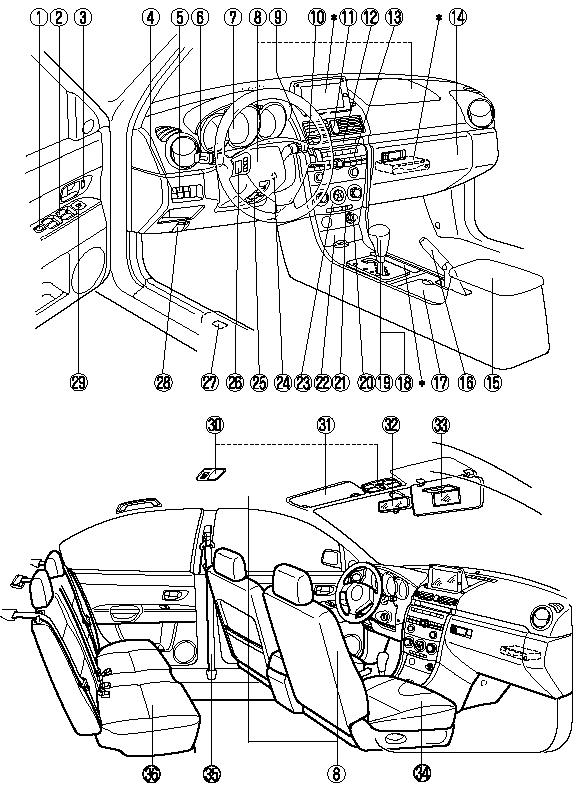 *Refer to Navigation System at the separate manual (if equipped).
1. Power window lock switch.
2. Power window switches.
3. Power door lock switch.
4. Headlight leveling switch.
5. Dashboard illumination switch.
6. Lighting control/Turn signal.
7. Instrument cluster.
8. SRS air bags.
9. Cruise control switches.
10. Wiper and washer lever.
11. Hazard warning flasher switch.
12. Information display.
13. Audio system.
14. Glove box.
15. Center console.
16. Parking brake.
17. Cup holder.
18. MT shift lever.
19. AT shift lever (Sport AT).
20. Lighter.
21. Rear window defroster switch.
22. Ashtray.
23. Climate control system.
24. Ignition switch.
25. Steering column release lever.
26. Audio control switches.
27. Remote fuel-filler lid release.
28. Hood release handle.
29. Outside mirror switch.
30. Interior lights.
31. Sunvisor.
32. Rearview mirror.
33. Vanity mirror.
34. Front seat.
35. Seat belt.
36. Rear seat.
Exterior Overview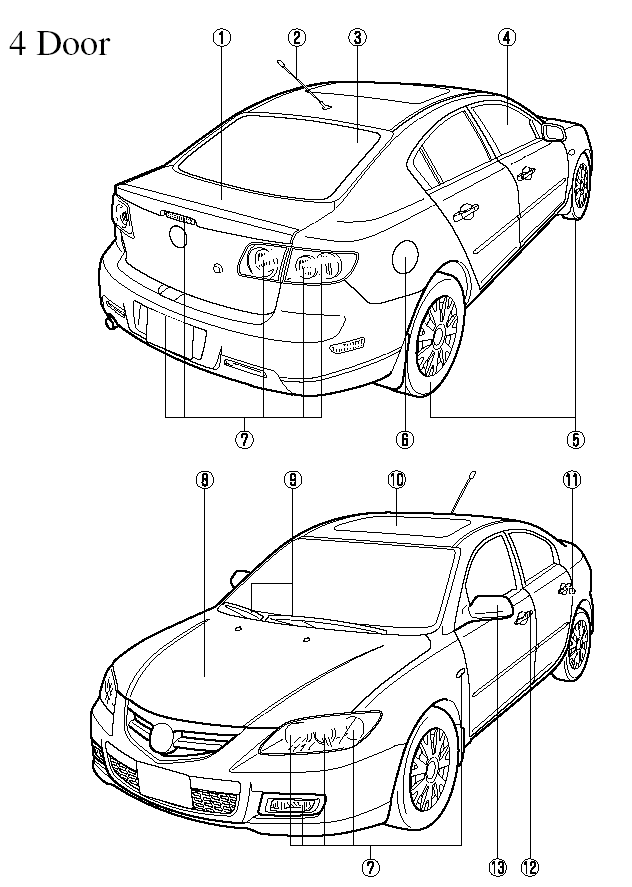 1. Trunk lid.
2. Antenna.
3. Rear window defroster.
4. Power window.
5. Tires.
6. Fuel-filler lid.
7. Light bulbs.
8. Hood.
9. Windshield wiper blades.
10. Moonroof.
11. Child safety lock.
12. Door lock.
13. Outside mirror.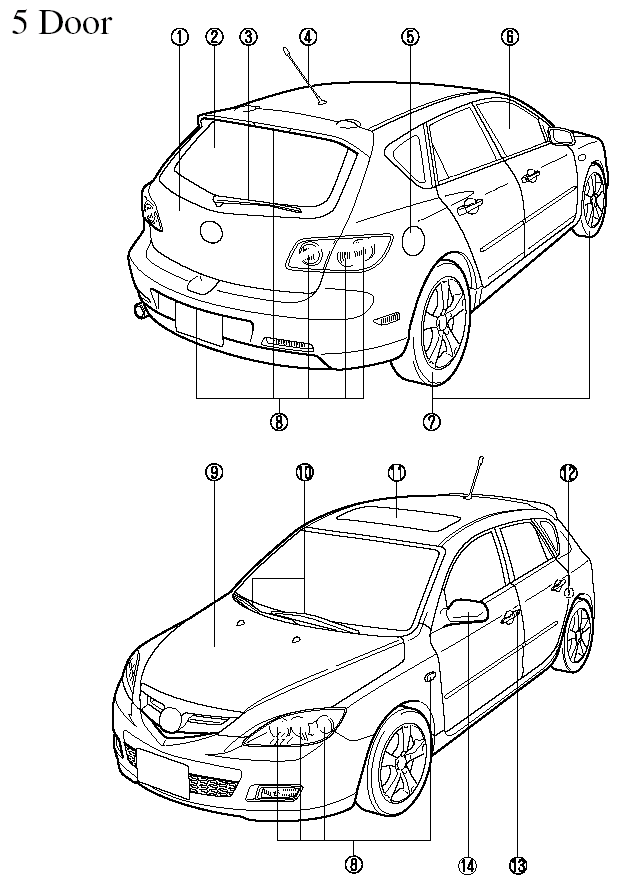 1. Liftgate.
2. Rear window defroster.
3. Rear wiper blade.
4. Antenna.
5. Fuel-filler lid.
6. Power window.
7. Tires.
8. Light bulbs.
9. Hood.
10. Windshield wiper blades.
11. Moonroof.
12. Child safety lock.
13. Door lock.
14. Outside mirror.
See also:
Theft-Deterrent System
If the theft deterrent system detects an inappropriate entry into the vehicle, which could result in the vehicle or its contents being stolen, the alarm alerts the surrounding area of an abnormali ...
Add-On Non-Genuine Parts and Accessories
Non-genuine parts and accessories for Mazda vehicles can be found in stores. These may fit your vehicle, but they are not approved by Mazda for use with Mazda vehicles. When you install non-genuin ...
Rocking the Vehicle
WARNING: Do not spin the wheels at more than 56 km/h (35 mph), and do not allow anyone to stand behind a wheel when pushing the vehicle: When the vehicle is stuck, spinning the wheels at high sp ...