Floor Mat
WARNING:
Make sure the floor mats are hooked on the retention pins to prevent them from bunching up under the foot pedals:
Using a floor mat that is not secured is dangerous as it will interfere with the accelerator and brake pedal operation, which could result in an accident.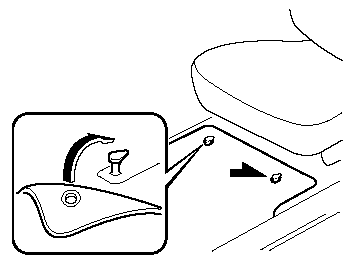 Do not install two floor mats, one on top of the other, on the driver's side: Installing two floor mats, one on top of the other, on the driver's side is dangerous as the retention pins can only keep one floor mat from sliding forward.
In using a heavy duty floor mat for winter use always remove the original floor mat.
Loose floor mat(s) will interfere with the foot pedal and could result in an accident.
When setting a floor mat, position the floor mat so that its eyelets are inserted over the pointed end of the retention posts.
See also:
Reporting Safety Defects (U.S.A.)
If you believe that your vehicle has a defect which could cause a crash or could cause injury or death, you should immediately inform the National Highway Traffic Safety Administration (NHTSA) in ...
The Little Engine That Could
The Miata started its life with a 1.6-liter four-cylinder that grew to 1.8 liters in 1994 and 2.0 liters with the current (third) generation in 2004. Tweaks over the years, including the addition ...
Specifications
Technical information about your Mazda. ...