SeatWarmer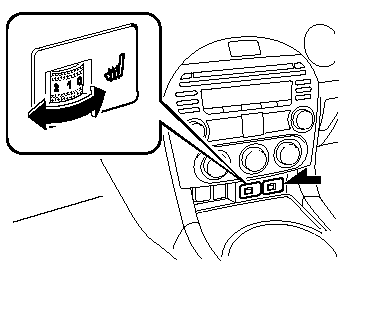 The driver and passenger seats can be warmed by rotating the applicable seat warmer dial while the ignition is switched ON.
The seat temperature increases as the number on the dial increases. When the seat warmers are not in use, rotate the seat warmer dials to 0.
WARNING:


Be careful when using the seat
warmer. The heat from the seat warmer may be too hot for some people, as indicated below, and could cause a low-temperature burn.

Infants, small babies, elderly
people, and physically
challenged people


People with delicate skin


People who are excessively
fatigued


People who are drunk


People who have taken sleepinducing
medicine such as
sleeping pills or cold medicine

Do not use the seat warmer with
anything having high moistureretention ability such as a blanket or cushion on the seat. The seat may be heated excessively and cause a low-temperature burn.

Do not use the seat warmer even
when taking a short nap in the vehicle. The seat may be heated excessively and cause a lowtemperature burn.

Do not place heavy objects with
sharp projections on the seat, or insert needles or pins into it. This could cause the seat to become excessively heated and result in injury from a minor burn.
CAUTION:
Do not use organic solvents to clean the seat. It may damage the seat surface and the heater.
NOTE:
Use the seat warmer when the engine is running, and do not continue to use it for a long period of time.
See also:
Customer Information and Reporting Safety Defects
Important consumer information including warranties and add-on equipment. ...
Mazda 2 in the Market
I've driven pretty much everything in the small-car field, and the Mazda2 is one I'd recommend any shopper take for a test drive. Its ride is the best in the category, yet it's still more fun to d ...
Automatic transaxle Fluid (ATF)
Inspecting Automatic transaxle Fluid Level The automatic transaxle fluid level should be inspected regularly. Measure it as described below. CAUTION. Always check the automatic transaxle fluid ...