Brake/Clutch Fluid
Inspecting Brake/Clutch Fluid Level
The brakes and clutch draw fluid from the same reservoir.
Inspect the fluid level in the reservoir regularly. It should be kept at MAX.
The level normally drops with accumulated distance, a condition associated with wear of brake and clutch linings. If it is excessively low, have the brake/clutch system inspected by an Authorized Mazda Dealer.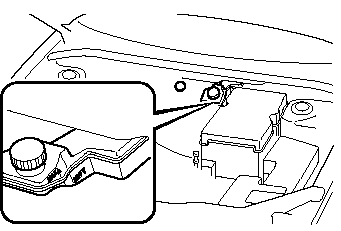 Without turbocharger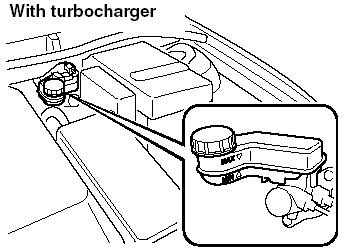 With turbocharger
Adding Brake/Clutch Fluid
WARNING:
Be careful not to spill brake fluid on yourself or on the engine: Spilled brake fluid is dangerous. If it gets in your eyes, they could be seriously injured. If this happens, immediately flush your eyes with water and get medical attention.
Brake fluid spilled on a hot engine could cause a fire.
If the brake/clutch fluid level is low, have the brakes and clutch inspected: Low brake/clutch fluid levels are dangerous. Low levels could signal brake lining wear or a brake system leak. Your brakes could fail and cause an accident.
If the fluid level is low, add fluid until it reaches MAX.
Before adding fluid, thoroughly clean the area around the cap.
CAUTION:


Brake and clutch fluid will
damage painted surfaces. If brake or clutch fluid does get on a painted surface, wash it off with water immediately.

Using nonspecified brake and
clutch fluids will
damage the systems. Mixing different fluids will also damage them.
If the brake/clutch system frequently requires new fluid, consult an Authorized Mazda Dealer.
See also:
Towing Description
We recommend that towing be done only by an Authorized Mazda Dealer or a commercial tow-truck service. Proper lifting and towing are necessary to prevent damage to the vehicle. Government and l ...
Under the Hood
The MX-5's 2.0-liter four-cylinder develops 166 horsepower at 6,700 rpm. The engine has dual overhead camshafts and variable valve timing. Torque output is 140 pounds-feet at 5,000 rpm. Three tr ...
Safety Certification
FCC ID: CB2MBLUEC07 IC:279BMBLUEC07. This device complies with Part 15 of the FCC Rules and with RSS-210 of Industry Canada. Operation is subject to the following two conditions: (1) This device ...