Antenna
Detachable Type
To remove the antenna, turn it counterclockwise.
To install the antenna, turn it clockwise.
Make sure the antenna is securely installed.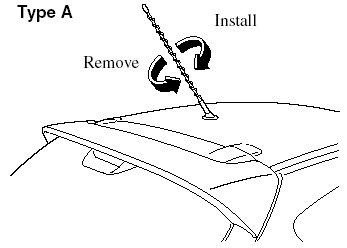 Type A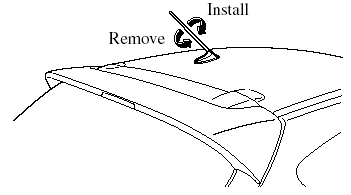 Type B
CAUTION:


To prevent damage to the
antenna, remove it before entering a car wash facility or passing beneath a low overhead clearance.

Be careful around the antenna
when removing snow from the roof. Otherwise the antenna could be damaged.
NOTE:
When leaving your vehicle unattended, we recommend that you remove the antenna and store it inside the vehicle.
See also:
Outside the United States
Government regulations in the United States require that automobiles meet specific emission regulations and safety standards. Therefore, vehicles built for use in the United States may differ fr ...
Door Locks
WARNING: Always take all children and pets with you or leave a responsible person with them: Leaving a child or a pet unattended in a parked vehicle is dangerous. In hot weather, temperatures in ...
Front Seats (Electrically Operated Seats)
WARNING: Do not modify or replace the front seats: Modifying or replacing the front seats such as replacing the upholstery or loosening any bolts is dangerous. The front seats contain air bag c ...