Washer Fluid
InspectingWasher Fluid Level
WARNING:
Use only windshield washer fluid or plain water in the reservoir: Using radiator antifreeze as washer fluid is dangerous. If sprayed on the windshield, it will dirty the windshield, affect your visibility, and could result in an accident.
Using Washer Fluid Without Anti-freeze Protection in Cold Weather: Operating your vehicle in temperatures below 4 degrees C (40 degrees F) using washer fluid without anti-freeze protection is dangerous as it could cause impaired windshield vision and result in an accident. In cold weather, always use washer fluid with anti-freeze protection.
NOTE:
State or local regulations may restrict the use of volatile organic compounds (VOCs), which are commonly used as anti-freeze agents in washer fluid. A washer fluid with limited VOC content should be used only if it provides adequate freeze resistance for all regions and climates in which the vehicle will be operated.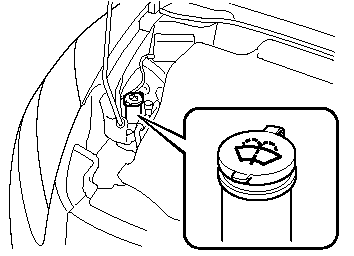 Inspect fluid level in the washer fluid reservoir; add fluid if necessary.
Use plain water if washer fluid is unavailable.
But use only washer fluid in cold weather to prevent it from freezing.
NOTE:
Front and rear washer fluid is supplied from the same reservoir.
See also:
Fog Lights
* Some models. The front fog lights help you to see as well as to be seen. The headlights must be turned on to turn on the front fog lights. To turn the front fog lights on, rotate the fog light ...
Tough, Elegant and Safe
Also premiering at the 74th Geneva Motor Show is a new face lifted version of Mazda's stylish and athletic sports utility vehicle (SUV) Mazda Tribute. Since its debut in 2000, Tribute has attracte ...
Jump-Starting
Jump-starting is dangerous if done incorrectly. So follow the procedure carefully. If you feel unsure about jump-starting, we strongly recommend that you have a competent service technician do t ...