Steering Wheel
WARNING:
Never adjust the steering wheel while the vehicle is moving:
Adjusting the steering wheel while the vehicle is moving is dangerous.
Moving it can very easily cause the driver to abruptly turn to the left or right. This can lead to loss of control or an accident.
Steering Wheel Adjustment
To change the angle or length of the steering wheel: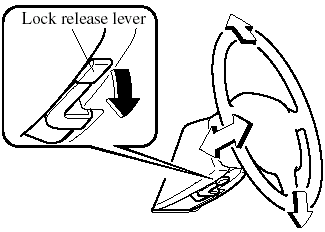 1. Stop the vehicle, pull down the lock release lever under the steering column.
2. Tilt the steering wheel and/or adjust the steering column length to the desired positions, push the lever up to lock the column.
3. Push the wheel up and down to be certain it's locked before driving.
See also:
A Word to Mazda Owners
Thank you for choosing a Mazda. We at Mazda design and build vehicles with complete customer satisfaction in mind. To help ensure enjoyable and trouble-free operation of your Mazda, read this ma ...
On the Road
Even with its 20-inch wheels, our Grand Touring rode reasonably comfortably, but it's a bit firmer than some. With that firmness comes pretty entertaining handling, with precise steering and a goo ...
Mazda5 2008 Review
The Mazda5 minivan is fun to drive. That's right: A minivan that's fun to drive. How can this be? The secret's in its size, as the six-person Mazda5 is significantly smaller than traditional miniv ...