Automatic Transaxle Fluid (ATF)
Inspecting Automatic Transaxle Fluid Level
The automatic transaxle fluid level should be inspected regularly. Measure it as described below.
The volume of fluid changes with temperature. Fluid must be checked while idling the engine without driving at normal operating temperature.
CAUTION:


Low fluid level causes transaxle
slippage. Overfilling can cause foaming, loss of fluid, and transaxle malfunction.

Use specified fluid. A
nonspecified fluid could result in transaxle malfunction and failure.
1. Park on a level surface and set the parking brake firmly.
2. Start the engine and depress the brake pedal.
3. Move the shift lever through all ranges, then set it at P.
WARNING:
Make sure the brake pedal is applied before shifting the shift lever: Shifting the shift lever without first depressing the brake pedal is dangerous. The vehicle could move suddenly and cause an accident.
4. With the engine still idling, pull out the dipstick, wipe it clean, and put it back.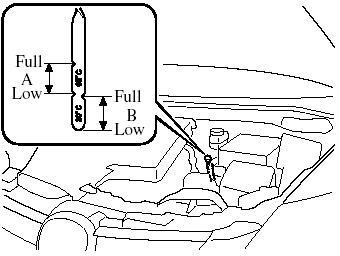 5. Pull it out again.
The proper fluid level is marked on the dipstick as follows.
Fluid hot scale A
When the vehicle has been driven and the fluid is at normal operating temperature, about 65°C (150°F), the level must be between Full and Low.
Fluid cold scale B
When the engine has not been running and the outside temperature is about 20°C (70°F), the fluid level should be close to, but not above, the bottom notch on the dipstick.
CAUTION:


Use the cold scale only as a
reference.

If outside temperature is lower
than about 20°C (70°F), start the engine and inspect the fluid level after the engine reaches operating temperature.

If the vehicle has been driven for
an extended period at high speeds or in city traffic in hot weather, inspect the level only after stopping the engine and allowing the fluid to cool for 30 minutes.
Fully insert the dipstick. When adding fluid, inspect with the dipstick to make sure it doesn't pass full.
NOTE:
Inspect the fluid on both sides of the dipstick in a well lit area for an accurate reading.
See also:
Exterior
The outside of the Tribute didn't get as dramatic a face-lift as the Escape did for 2008. The grille lost its crossbar and the Mazda logo was moved up. The 2009 Tribute gets a capless refueling sy ...
Door Locks
WARNING: Always take all children and pets with you or leave a responsible person with them: Leaving a child or a pet unattended in a parked vehicle is dangerous. In hot weather, temperatures in ...
Tire Maintenance
Improper or inadequate vehicle maintenance can cause tires to wear abnormally. Here are some important maintenance points: Tire Inflation Pressure Inspect all tire pressure monthly (including the ...