Tiedown Hooks
CAUTION:
Don't use the tiedown hooks under the front and rear for towing.
They are designed ONLY for tying down the vehicle when it's being transported. Using them for towing will damage the bumper.
Tiedown Hooks
1. Remove the tiedown eyelet, lug wrench, and jack lever from the trunk.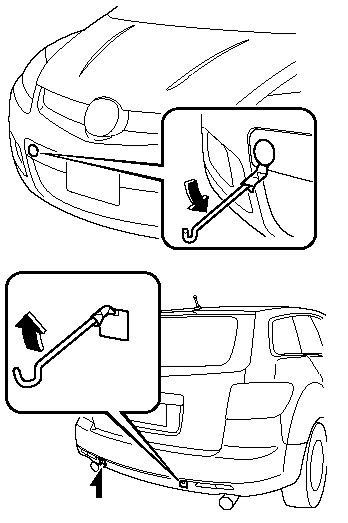 2. Wrap the jack lever with a soft cloth to prevent damage to the bumper and open the cap located on the front and rear bumper.
CAUTION:
The cap cannot be completely removed. Do not use excessive force as it may damage the cap or scratch the painted bumper surface.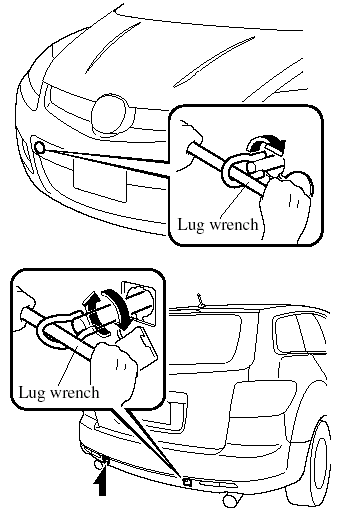 3. Securely install the tiedown eyelet using the lug wrench.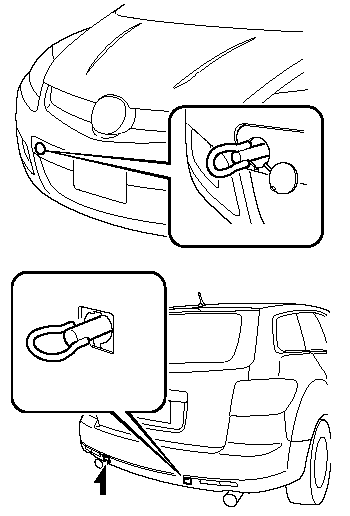 4. Hook the tying rope to the tiedown eyelet.
CAUTION:
If the tiedown eyelet is not securely tightened, it may loosen or disengage from the bumper when tying down the vehicle. Make sure that the tiedown eyelet is securely tightened to the bumper.
See also:
Liftgate (5 Door)
WARNING: Never allow a person to ride in the luggage compartment: Allowing a person to ride in the luggage compartment is dangerous. The person in the luggage compartment could be seriously inj ...
How to Use This Manual
We want to help you get the most driving pleasure from your vehicle. Your owner's manual, when read from cover to cover, can do that in many ways. Illustrations complement the words of the manual ...
Starting a Flooded Engine
If the engine fails to start, it may be flooded (excessive fuel in the engine). Follow this procedure: 1. If the engine does not start within five seconds on the first try, turn the key to the LO ...