Tiedown Hooks
CAUTION:
Don't use the tiedown hooks under the front and rear for towing.
They are designed ONLY for tying down the vehicle when it's being transported. Using them for towing will damage the bumper.
Tiedown Hooks
1. Remove the tiedown eyelet, lug wrench, and jack lever from the trunk.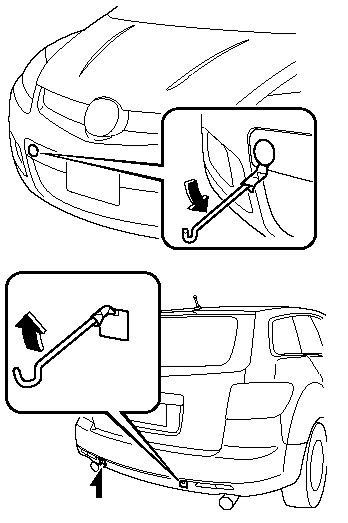 2. Wrap the jack lever with a soft cloth to prevent damage to the bumper and open the cap located on the front and rear bumper.
CAUTION:
The cap cannot be completely removed. Do not use excessive force as it may damage the cap or scratch the painted bumper surface.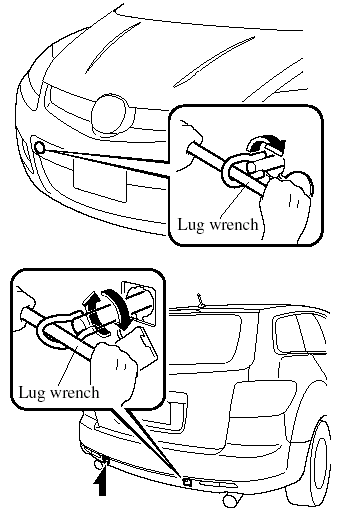 3. Securely install the tiedown eyelet using the lug wrench.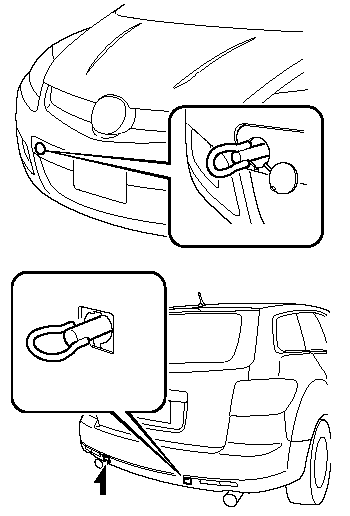 4. Hook the tying rope to the tiedown eyelet.
CAUTION:
If the tiedown eyelet is not securely tightened, it may loosen or disengage from the bumper when tying down the vehicle. Make sure that the tiedown eyelet is securely tightened to the bumper.
See also:
Interior Care
Dashboard Precautions Prevent caustic solutions such as perfume and cosmetic oils from contacting the dashboard. They'll damage and discolor it. If these solutions get on the dashboard, wipe them ...
When Bluetooth Hands-Free cannot be used
Bluetooth Hands-Free cannot be used under the following conditions: - The mobile telephone is outside of the communication area. - The mobile telephone has a malfunction. - The mobile telephone ...
Parking in an Emergency
The hazard warning lights should always be used when you stop on or near a roadway in an emergency. The hazard warning lights warn other drivers that your vehicle is a traffic hazard and that t ...