Bottle Holder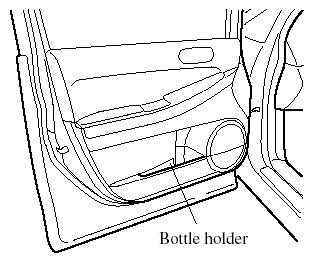 Bottle holders are on the inside of the front doors.
CAUTION:
Do not use the bottle holders for containers without caps. The contents may spill when the door is opened or closed
See also:
Vehicle Overview
Mazda's larger, more powerful replacements for the departed Protege sedan and Protege5 hatchback went on sale in the 2004 model year. Built on the same platform as the Volvo S40, the compact, fron ...
Mazda2 2009 review
The 2011 Mazda2 may very well be the cutest car I've driven to date. Despite its more than adorable look, the Mazda2 and I took a few days to get to know each other. Upon my first drive, I have to ...
Registering Your Vehicle in A Foreign Country (Except United States and Canada)
Government regulations in your country could require that automobiles meet specific emission and safety standards. Vehicles built for your country may differ from those built for other countries. ...