Turn and Lane-Change Signals
Turn Signal
Move the signal lever down (for a left turn) or up (for a right turn) to the stop position. The signal will self-cancel after the turn is completed.
If the indicator light continues to flash after a turn, manually return the lever to its original position.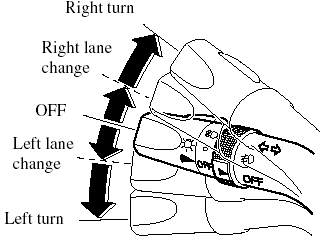 Green indicators on the dashboard show which signal is working.
Lane-change signals
Move the lever slightly toward the direction of the change ―until the indicator flashes― and hold it there. It will return to the off position when released.
NOTE:
If an indicator light stays on without flashing or if it flashes abnormally, one of the turn signal bulbs may be burned out.
See also:
New for 2010
There are no significant changes for 2010. ...
Satisfying Drivetrain
What you get for your diminished mileage is respectable but not exceptional acceleration. Though the 2.3-liter four-cylinder (to be replaced in the 2010 by a 2.5-liter) is pretty robust, the Mazda ...
Superior NVH for a Quiet Cabin
All these features can be enjoyed to the fullest, because CX9's cabin is designed to be quiet and relaxing, even at cruising speed on the motorway. Its new V6 engine and automatic transmission are ...