Floor Mat
WARNING:
Make sure the floor mats are hooked on the retention pins to prevent them from bunching up under the foot pedals:
Using a floor mat that is not secured is dangerous as it will interfere with the accelerator and brake pedal operation, which could result in an accident.
Do not install two floor mats, one on top of the other, on the driver's side: Installing two floor mats, one on top of the other, on the driver's side is dangerous as the retention pins can only keep one floor mat from sliding forward.
In using a heavy duty floor mat for winter use always remove the original floor mat.
Loose floor mat(s) will interfere with the foot pedal and could result in an accident.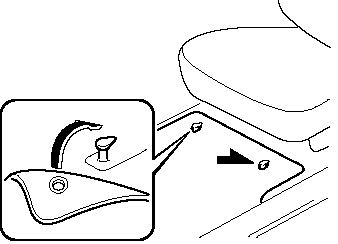 When setting a floor mat, position the floor mat so that its eyelets and inserted over the pointed end of the retention posts.
See also:
Vehicle Overview
The CX-7 five-seat crossover is priced between the Tribute and the larger CX-9 crossover in the Mazda lineup. The CX-7 was designed to deliver the utility of a small SUV and the driving experience ...
Distributor in Each Area
CANADA Mazda Canada Inc. 55 Vogell Road, Richmond Hill, Ontario, L4B 3K5 Canada TEL: 1 (800) 263-4680 (in Canada) (905) 787-7000 (outside Canada) PUERTO RICO/U.S. Virgin Islands Plaza Motors Co ...
Beep Sounds
Air Bag/Front Seat Belt Pretensioner System Warning Beep If a malfunction is detected in both the air bag/front seat belt pretensioner system and the warning light, a warning beep sound will be he ...