Steering Wheel
WARNING:
Never adjust the steering wheel while the vehicle is moving:
Adjusting the steering wheel while the vehicle is moving is dangerous.
Moving it can very easily cause the driver to abruptly turn to the left or right. This can lead to loss of control or an accident.
Tilt Steering Wheel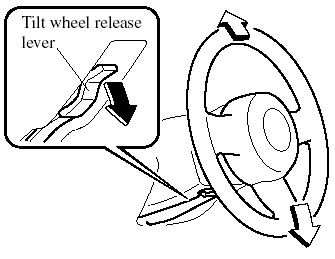 To change the angle of the steering wheel, stop the vehicle, pull the tilt wheel release lever under the steering column down, adjust the wheel, then push the release lever up to lock the column.
After adjusting, push the wheel up and down to be certain it's locked before driving.
See also:
Interior Design - Roominess and Quality
Despite looking more like a sports car than an SUV on the outside, on the inside Mazda CX9 uses its full size - with a length of 5,089 mm, a width of 1,936 mm and height of 1,728 mm - to deliver S ...
Washer Fluid
InspectingWasher Fluid Level WARNING: Use only windshield washer fluid or plain water in the reservoir: Using radiator antifreeze as washer fluid is dangerous. If sprayed on the windshield, it w ...
Cell Phones Warning
WARNING. Please comply with the legal regulations concerning the use of communication equipment in vehicles in your State or Province: Use of any electrical devices such as cell phones, computers, ...