Washer Fluid
InspectingWasher Fluid Level
WARNING:
Use only windshield washer fluid or plain water in the reservoir: Using radiator antifreeze as washer fluid is dangerous. If sprayed on the windshield, it will dirty the windshield, affect your visibility, and could result in an accident.
Using Washer Fluid Without Anti-freeze Protection in Cold Weather: Operating your vehicle in temperatures below 4 degrees C (40 degrees F) using washer fluid without anti-freeze protection is dangerous as it could cause impaired windshield vision and result in an accident. In cold weather, always use washer fluid with anti-freeze protection.
NOTE:
State or local regulations may restrict the use of volatile organic compounds (VOCs), which are commonly used as anti-freeze agents in washer fluid. A washer fluid with limited VOC content should be used only if it provides adequate freeze resistance for all regions and climates in which the vehicle will be operated.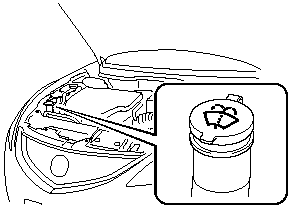 Inspect fluid level in the washer fluid reservoir; add fluid if necessary.
Use plain water if washer fluid is unavailable.
But use only washer fluid in cold weather to prevent it from freezing.
See also:
Scheduled Maintenance (Mexico)
Follow Schedule 1 if the vehicle is operated mainly where none of the following conditions apply. - Repeated short-distance driving. - Driving in dusty conditions. - Driving with extended use of ...
Engines
The new Mazda Tribute retains the 3.0-litre petrol V6 engine, which delivers superior engine performance and smooth engine operation. New to the line up is a 2.3-litre 110 kW/150 PS MZR petrol, rep ...
CX-9 in the Market
Full-size truck-based SUVs were wildly popular in the '90s, but crossover SUVs are (for the moment) the hot segment in the car business. The 2007 model year saw the introduction of more than 10 ne ...