Spare Tire and Tool Storage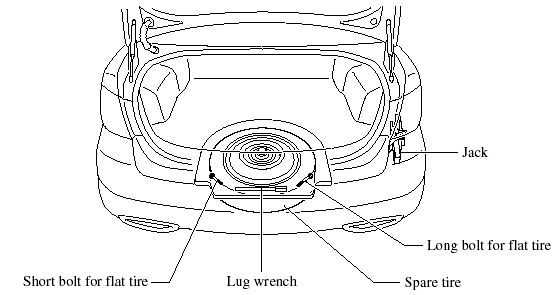 Spare tire and tools are stored in the locations illustrated in the diagram.
Jack
To remove the jack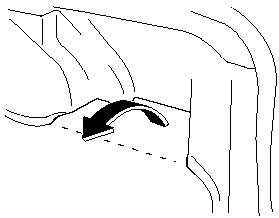 1. Open the trunk mat.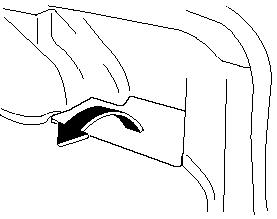 2. Remove the jack container lid.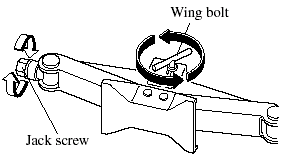 3. Turn the wing bolt and jack screw counterclockwise.
To secure the jack
1. Insert the wing bolt into the jack with the jack screw pointing front and turn the wing bolt clockwise to temporarily tighten it.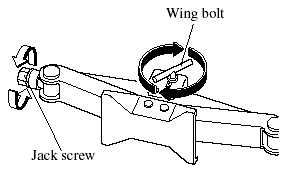 2. Turn the jack screw in the direction shown in the figure.
3. Turn the wing bolt completely to secure the jack.
NOTE:
If the jack is not completely secured, it could rattle while driving. Make sure the jack screw is sufficiently tightened.
Spare Tire
Your Mazda has a temporary spare tire.
The temporary spare tire is lighter and smaller than a conventional tire, and is designed only for emergency use and should be used only for VERY short periods. Temporary spare tires should NEVER be used for long drives or extended periods.
WARNING:
Do not install the temporary spare tire on the front wheels (driving wheels): Driving with the temporary spare tire on one of the front driving wheels is dangerous. Handling will be affected.
You could lose control of the vehicle, especially on ice or snow bound roads, and have an accident. Move a regular tire to the front wheel and install the temporary spare tire to the rear.
CAUTION:


When using the temporary spare
tire, driving stability may decrease compared to when using only the conventional tire. Drive carefully.

To avoid damage to the temporary
spare tire or to the vehicle, observe the following precautions:

Do not exceed 80 km/h (50
mph).

Avoid driving over obstacles.

Also, do not drive through an automatic car wash. This tire's diameter is smaller than a conventional tire, so the ground clearance is reduced about 7 mm (0.3 in).

Do not use tire chains on any
type of tire, including the spare tire.

Do not use your temporary
spare tire on any other vehicle, it has been designed only for your Mazda.

Use only one temporary spare
tire on your vehicle at the same time.
To remove the spare tire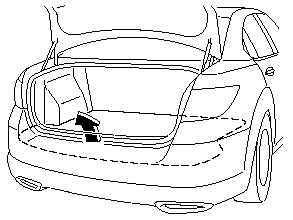 1. Remove the trunk mat, and if a trunk board is equipped remove it also.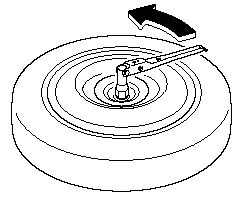 2. Turn the tire hold-down bolt counterclockwise.
To secure the spare tire
Perform the removal procedure in reverse.
See also:
Interior Lights
qOverhead Light Trunk Light ...
Your Vehicle at a Glance
Interior, exterior views and part identification of your Mazda. ...
Door Locks
WARNING. Always take all children and pets with you or leave a responsible person with them: Leaving a child or a pet unattended in a parked vehicle is dangerous. In hot weather, temperatures in ...