Turn and Lane-Change Signals
Turn Signal
Move the signal lever down (for a left turn) or up (for a right turn) to the stop position. The signal will self-cancel after the turn is completed.
If the indicator light continues to flash after a turn, manually return the lever to its original position.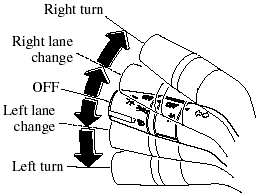 Green indicators on the dashboard show which signal is working.
Lane-change signals
Move the lever slightly toward the direction of the change ―until the indicator flashes― and hold it there. It will return to the off position when released.
NOTE:
- If an indicator light stays on without flashing or if it flashes abnormally, one of the turn signal bulbs may be burned out.
- A personalized function is available to change the number of flashes.Refer to Personalization Features.
- A personalized function is available to change the turn indicator sound volume.Refer to Personalization Features.
See also:
Meters and Gauges
1 Speedometer. 2 Odometer, Trip Meter, Average Fuel Economy Display, Outside Temperature Display and Selector. 3 Tachometer. 4 Engine Coolant Temperature Gauge. 5 Fuel Gauge. 6 Dashboard Illu ...
Power Steering
Power steering is only operable when the engine is running. If the engine is off or if the power steering system is inoperable, you can still steer, but it requires more physical effort. If the s ...
Engine Exhaust (Carbon Monoxide)
WARNING: Do not drive your vehicle if you smell exhaust gas inside the vehicle: Engine exhaust gas is dangerous. This gas contains carbon monoxide (CO), which is colorless, odorless, and poisonou ...