Floor Mat
WARNING:
Make sure the floor mats are hooked on the retention pins to prevent them from bunching up under the foot pedals:
Using a floor mat that is not secured is dangerous as it will interfere with the accelerator and brake pedal operation, which could result in an accident.
Do not install two floor mats, one on top of the other, on the driver's side: Installing two floor mats, one on top of the other, on the driver's side is dangerous as the retention pins can only keep one floor mat from sliding forward.
In using a heavy duty floor mat for winter use always remove the original floor mat.
Loose floor mat(s) will interfere with the foot pedal and could result in an accident.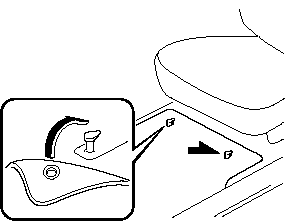 When setting a floor mat, position the floor mat so that its eyelets and inserted over the pointed end of the retention posts.
See also:
Environmental performance
The all-new Mazda 3 offers excellent environmental performance that conforms to Euro Stage 5 regulations (apart from models with the 1.6-litre gasoline and diesel engines). This was achieved thank ...
Interior Equipment (View B)
1. Audio control switches. 2. SRS air bags. 3. Cruise control switches. 4. Audio system. 5. Hazard warning flasher switch. 6. Climate control system. 7. MT shift lever. 8. AT shift lever. 9. ...
Defining Attributes
On the upside, the current generation's reliability has been above average to well above average, and it's one of the most fun cars in the compact class. Fun is hard to define, but it usually invo ...