Towing Description
We recommend that towing be done only by an Authorized Mazda Dealer or a commercial tow-truck service.
Proper lifting and towing are necessary to prevent damage to the vehicle.
Government and local laws must be followed.
A towed vehicle usually should have its drive wheels (front wheels) off the ground. If excessive damage or other conditions prevent this, use wheel dollies.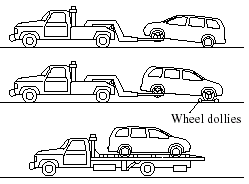 When towing with the rear wheels on the ground, release the parking brake.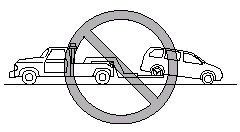 CAUTION.
Do not tow the vehicle pointed backward with driving wheels on the ground. This may cause internal damage to the transaxle.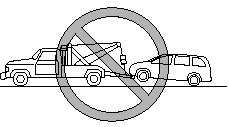 CAUTION.
Do not tow with sling-type equipment. This could damage your vehicle. Use wheel-lift or flatbed equipment.
If towing service is not available in an emergency, the vehicle may be towed with all four wheels on the ground using the towing hook at the front of the vehicle.
Only tow the vehicle on paved surfaces for short distances at low speeds.
CAUTION.
Follow these instructions when towing the vehicle with all wheels on the ground.
1. Shift to neutral (MT), or the N position (AT).
2. Turn the ignition switch to the ACC position to prevent the steering from locking up.
3. Release the parking brake.
Remember that power assist for the brakes and steering will not be available when the engine is not running.
See also:
Six-Speed Automatic Transmission with Manual Shift Mode
These engine technologies are combined with a six- speed automatic transmission with manual shift mode as standard equipment. This transmission provides an optimal balance between acceleration, ri ...
Fuses
Your vehicle's electrical system is protected by fuses. If any lights, accessories, or controls don't work, inspect the appropriate circuit protector. If a fuse has blown, the inside element will ...
Under the Hood
The CX-9 features a 273-horsepower, 3.7-liter V-6 with 270 pounds-feet of torque. Front- and all-wheel drive are offered. * Standard six-speed automatic transmission with clutchless-manual mode * ...