Rear Ventilation System
* Some models.
The rear ventilation system only blows cool air through the rear vents while the front climate control system is on. It does not blow air when the front climate control is off. The rear vents blow either outside air or recirculated air, depending on the position in which the air intake selector switch is set.
Front climate control is given priority over the rear ventilation control.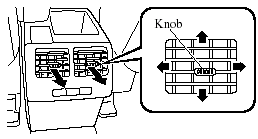 Control Switches


Rear ventilation control switch
To get air flowing through the rear vents, first operate the fan control dial or turn on the AUTO switch on the front climate control operation panel. Then, switch on the rear ventilation control switch on the front climate control panel, or switch on either the low or high rear vent button on the rear console.


Rear vent buttons
The rear vent switches adjust the airflow volume flowing from the rear vent.
OFF - Fan off.
LO - Low speed.
HI - High speed.
NOTE.
Only cool or cold air (no heat) blows through the rear vents while the front climate control is on. Heat for the rear passengers comes from under the front seats when the front heater is on and set to floor mode.
When pressing the rear ventilation control switch on the front control panel (with climate control system on), the rear ventilation system operates at low speed only. To change to high speed, press the HI rear vent button.
See also:
Outside the United States
Government regulations in the United States require that automobiles meet specific emission regulations and safety standards. Therefore, vehicles built for use in the United States may differ fr ...
Specifications
Engine Electrical System *1 ex factory CAUTION. When cleaning the iridium plugs, do not use a wire brush. The fine particulate coating on the iridium alloy and platinum tips could be damaged. ...
Lighting Control
Headlights Type A (Without AUTO position) Turn the headlight switch to turn the headlights, other exterior lights and dashboard illumination on or off. NOTE: - If the light switch is left on ...