Scheduled Maintenance (USA, Canada, and Puerto Rico)
Follow Schedule 1 if the vehicle is operated mainly where none of the following conditions
apply.
- Repeated short-distance driving - Driving in dusty conditions - Driving with extended use of brakes - Driving in areas where salt or other corrosive materials are used - Driving on rough or muddy roads - Extended periods of idling or low-speed operation - Driving for long periods in cold temperatures or extremely humid climates - Driving in extremely hot conditions - Driving in mountainous conditions continually If any do apply, follow Schedule 2 (Canada and Puerto Rico residents follow Schedule 2).
NOTE:
After the prescribed period, continue to follow the described maintenance at the recommended
intervals.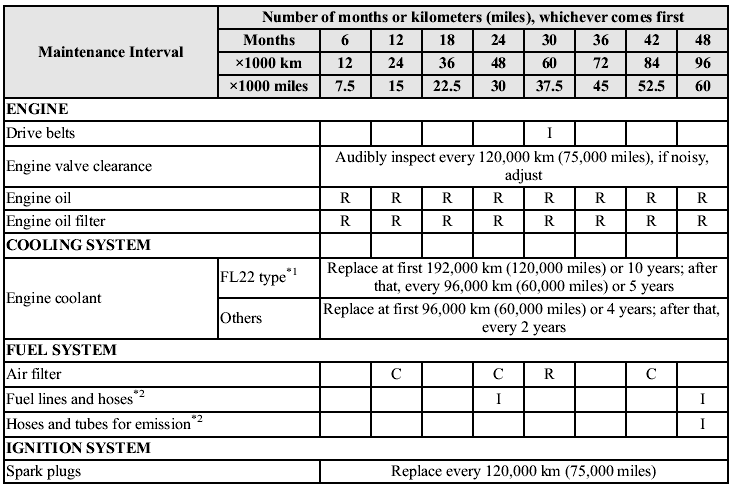 Schedule 1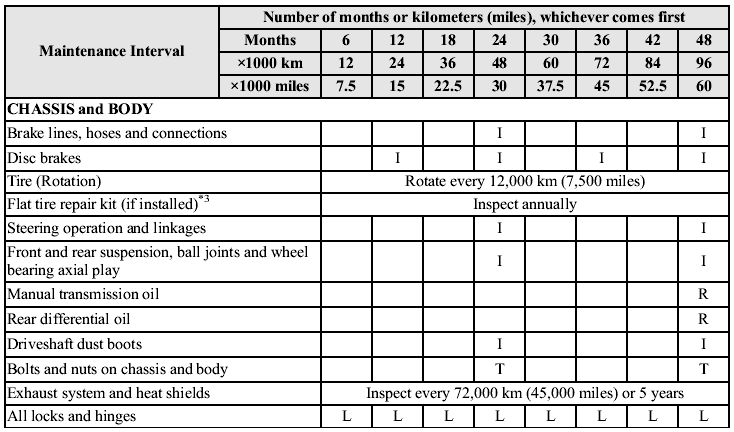 Chart symbols:
I: Inspect: Inspect and clean, repair, adjust, fill up, or replace if necessary.
R: Replace
C: Clean
L: Lubricate
T: Tighten
Remarks:
*1 Use FL22 type coolant in vehicles with the inscription "FL22" on the radiator cap itself or the surrounding area. Use FL22 when replacing the coolant.
*2 According to state/provincial and federal regulations, failure to perform maintenance on these items will not void your emissions warranties. However, Mazda recommends that all maintenance services be performed at the recommended time or mileage/kilometer period to ensure long-term reliability.
*3 Check the tire repair fluid expiration date every year when performing the periodic maintenance. Replace the tire repair fluid bottle with new one before the expiration date.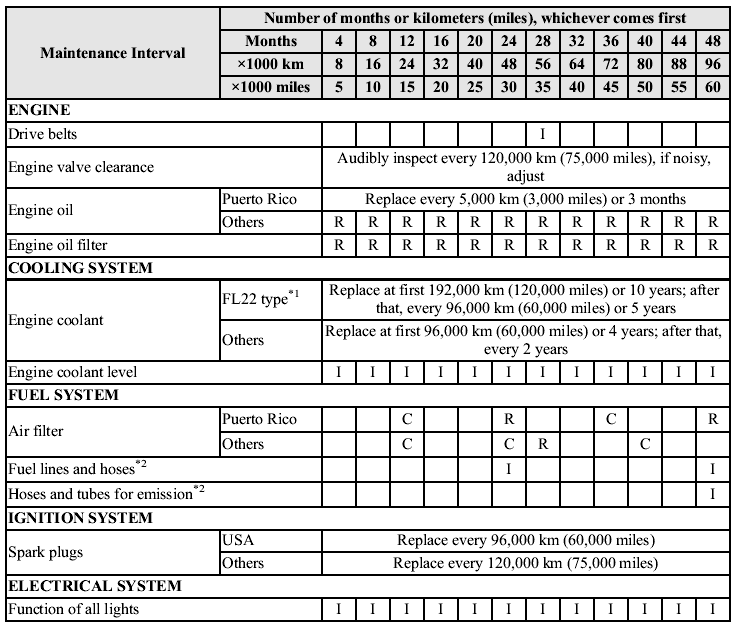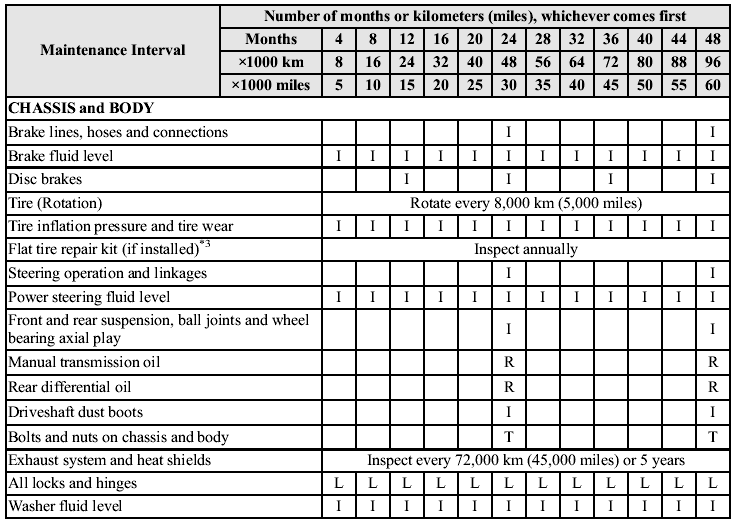 See also:
Introduction
Be extremely careful and prevent injury to yourself and others or damage to your vehicle when using this manual for inspection and maintenance. If you're unsure about any procedure it describes, w ...
Door Locks
WARNING: Always take all children and pets with you or leave a responsible person with them: Leaving a child or a pet unattended in a parked vehicle is dangerous. In hot weather, temperatures in ...
Advanced Key Suspend Function
If an advanced key is left in the vehicle, the functions of the advanced key left in the vehicle are temporarily suspended to prevent theft of the vehicle. The following are inoperable: - Startin ...