Interior Equipment (View A)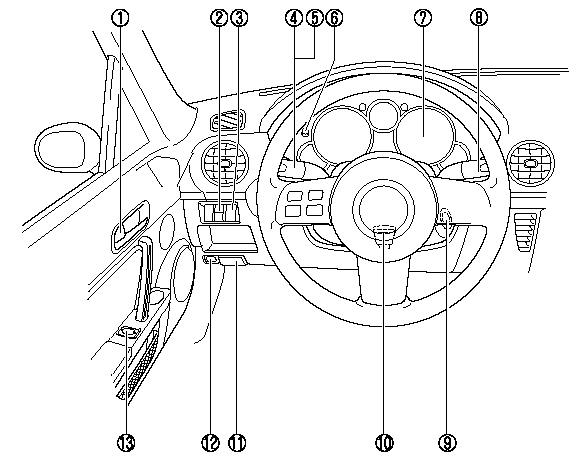 1 Door-lock knob.
2 DSC OFF switch.
3 Passenger air bag deactivation switch.
4 Lighting control.
5 Turn and lane-change signal.
6 Dashboard illumination knob.
7 Instrument cluster.
8 Wiper and washer lever.....
9 Ignition switch.
10 Tilt wheel release lever.
11 Hood release handle.
12 Trunk release button.
13 Outside mirror switch.
See also:
Specifications
Engine Electrical System *1 ex factory CAUTION. When cleaning the iridium plugs, do not use a wire brush. The fine particulate coating on the iridium alloy and platinum tips could be damaged. ...
Fuel Requirements
Vehicles with catalytic converters or oxygen sensors must use ONLY UNLEADED FUEL, which will reduce exhaust emissions and keep spark plug fouling to a minimum. Your Mazda will perform best with fu ...
Tires
For reasons of proper performance, safety, and better fuel economy, always maintain recommended tire inflation pressures and stay within the recommended load limits and weight distribution. WARNI ...