Floor Mat
WARNING:
Make sure the floor mats are hooked on the retention pins to prevent them from bunching up under the foot pedals:
Using a floor mat that is not secured is dangerous as it will interfere with the accelerator and brake pedal operation, which could result in an accident.
Do not install two floor mats, one on top of the other, on the driver's side: Installing two floor mats, one on top of the other, on the driver's side is dangerous as the retention pins can only keep one floor mat from sliding forward.
In using a heavy duty floor mat for winter use always remove the original floor mat.
Loose floor mat(s) will interfere with the foot pedal and could result in an accident.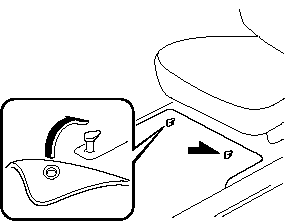 When setting a floor mat, position the floor mat so that its eyelets and inserted over the pointed end of the retention posts.
See also:
Types of the Climate Control System
Manual type and automatic type climate control systems are explained separately. Check your vehicle's climate control type and read the appropriate pages. Manual Type Automatic Type Type A ...
Mazda5 2009 Review
Editor's note: This review was written in April 2008 about the 2008 Mazda5. Little of substance has changed with this year's model. To see what's new for 2009, click here, or check out a side-by-s ...
Sunvisors
When you need a sunvisor, lower it for use in front or swing it to the side. Side Extension Sunvisors The visor extender extends the sunvisor's range of sun shading. To use, pull it out. CAU ...