Floor Mat
WARNING:
Make sure the floor mats are hooked on the retention pins to prevent them from bunching up under the foot pedals:
Using a floor mat that is not secured is dangerous as it will interfere with the accelerator and brake pedal operation, which could result in an accident.
Do not install two floor mats, one on top of the other, on the driver's side: Installing two floor mats, one on top of the other, on the driver's side is dangerous as the retention pins can only keep one floor mat from sliding forward.
In using a heavy duty floor mat for winter use always remove the original floor mat.
Loose floor mat(s) will interfere with the foot pedal and could result in an accident.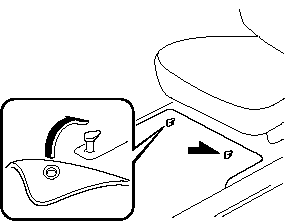 When setting a floor mat, position the floor mat so that its eyelets and inserted over the pointed end of the retention posts.
See also:
Seat Belt
WARNING: Always wear the seat belt with it correctly routed in its guide: Wearing a seat belt without the seat belt routed in its guide is dangerous because the seat belt would not be able to pr ...
Accessory Sockets
The ignition switch must be in the ACC or ON position. Only use genuine Mazda accessories or the equivalent requiring no greater than 120 W (DC 12 V, 10 A). The accessory socket is in the center ...
Owner Maintenance Schedule
The owner or a qualified service technician should make these vehicle inspections at the indicated intervals to ensure safe and dependable operation. Bring any problem to the attention of an Autho ...