Tiedown Hooks
CAUTION.
Don't use the tiedown hooks under the front and rear for towing.
They are designed ONLY for tying down the vehicle when it's being transported. Using them for towing will damage the bumper.
Tiedown Hook-Front
1. Remove the tiedown eyelet, lug wrench, and jack lever from the trunk.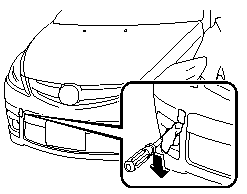 2. Wrap the jack lever with a soft cloth to prevent damage to the bumper and open the cap located on the front bumper.
CAUTION.
The cap cannot be completely removed. Do not use excessive force as it may damage the cap or scratch the painted bumper surface.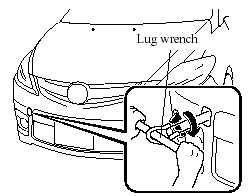 3. Securely install the tiedown eyelet using the lug wrench.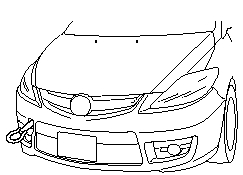 4. Hook the tying rope to the tiedown eyelet.
CAUTION.
If the tiedown eyelet is not securely tightened, it may loosen or disengage from the bumper when tying down the vehicle. Make sure that the tiedown eyelet is securely tightened to the bumper.
Tiedown Hooks-Rear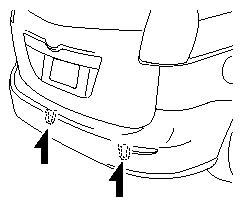 See also:
Mazda5 in the Market
You would think that selling the only vehicle of a particular type would be desirable. With few exceptions, automakers don't work that way. They'd rather slug it out with competitors for the heart ...
Scheduled Maintenance (Mexico)
Follow Schedule 1 if the vehicle is operated mainly where none of the following conditions apply. - Repeated short-distance driving. - Driving in dusty conditions. - Driving with extended use of ...
Information Display
Information Display Information Display Functions The information display has the following functions: - Clock. - Ambient Temperature Display (Outside Temperature Display, Fully Automatic Type ...