Tiedown Hooks
CAUTION.
Don't use the tiedown hooks under the front and rear for towing.
They are designed ONLY for tying down the vehicle when it's being transported. Using them for towing will damage the bumper.
Tiedown Hook-Front
1. Remove the tiedown eyelet, lug wrench, and jack lever from the trunk.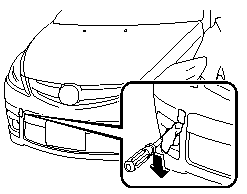 2. Wrap the jack lever with a soft cloth to prevent damage to the bumper and open the cap located on the front bumper.
CAUTION.
The cap cannot be completely removed. Do not use excessive force as it may damage the cap or scratch the painted bumper surface.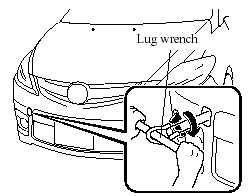 3. Securely install the tiedown eyelet using the lug wrench.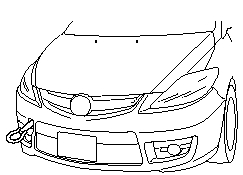 4. Hook the tying rope to the tiedown eyelet.
CAUTION.
If the tiedown eyelet is not securely tightened, it may loosen or disengage from the bumper when tying down the vehicle. Make sure that the tiedown eyelet is securely tightened to the bumper.
Tiedown Hooks-Rear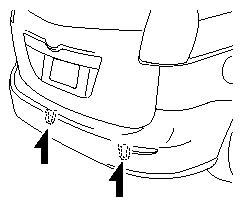 See also:
A sporty cockpit that improves functional beauty
The new "zone layout" approach focuses on improving visibility and more intuitive controls which provide "a sense of the car and driver as one" and "a reassuring sense of ...
Before Driving Your Mazda
Important information about driving your Mazda. ...
Break-In Period
No special break-in is necessary, but a few precautions in the first 1,000 km (600 miles) may add to the performance, economy, and life of your Mazda. - Don't race the engine. - Don't maintain on ...