Rear Ventilation System
* Some models.
The rear ventilation system only blows cool air through the rear vents while the front climate control system is on. It does not blow air when the front climate control is off. The rear vents blow either outside air or recirculated air, depending on the position in which the air intake selector switch is set.
Front climate control is given priority over the rear ventilation control.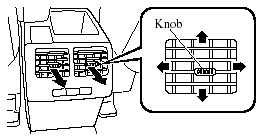 Control Switches


Rear ventilation control switch
To get air flowing through the rear vents, first operate the fan control dial or turn on the AUTO switch on the front climate control operation panel. Then, switch on the rear ventilation control switch on the front climate control panel, or switch on either the low or high rear vent button on the rear console.


Rear vent buttons
The rear vent switches adjust the airflow volume flowing from the rear vent.
OFF - Fan off.
LO - Low speed.
HI - High speed.
NOTE.
Only cool or cold air (no heat) blows through the rear vents while the front climate control is on. Heat for the rear passengers comes from under the front seats when the front heater is on and set to floor mode.
When pressing the rear ventilation control switch on the front control panel (with climate control system on), the rear ventilation system operates at low speed only. To change to high speed, press the HI rear vent button.
See also:
Seat Belt Precautions
Seat belts help to decrease the possibility of severe injury during accidents and sudden stops. Mazda recommends that the driver and all passengers always wear seat belts. All of the seat belt r ...
AUX Mode (Auxiliary input)
You can connect portable audio units or similar products on the market to the auxiliary jack to listen to music or audio over the vehicle's speakers. WARNING: Do not adjust the portable audio u ...
Suspension and Steering
The new Mazda Tribute retains the chassis system that delivers a superb combination of handling stability and ride comfort both on and off-road. The front suspension employs a MacPherson strut sys ...