Manual Transaxle Operation
Manual Transaxle Shift Pattern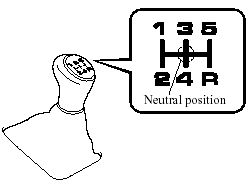 The shift pattern of the transaxle is conventional, as shown.
Depress the clutch pedal all the way down while shifting; then release it slowly.
A safety feature prevents accidental shifting from 5 to R (reverse). The shift lever must be put in neutral before being shifted to R.
WARNING.
Do not use sudden engine braking on slippery road surfaces or at high speeds:
Shifting down while driving on wet, snowy, or frozen roads, or while driving at high speeds causes sudden engine braking, which is dangerous.
The sudden change in tire speed could cause the tires to skid. This could lead to loss of vehicle control and an accident.
Be sure to leave the shift lever in 1 or R position and set the parking brake when leaving the vehicle unattended: Otherwise the vehicle could move and cause an accident.
CAUTION.

Keep your foot off the clutch pedal
except when shifting gears. Also, do not use the clutch to hold the vehicle on an upgrade. Riding the clutch will cause needless clutch wear and damage.

Make sure the vehicle comes to a
complete stop before shifting to R.
Shifting to R while the vehicle is still moving may damage the transaxle.
NOTE.
If shifting to R is difficult, shift back into neutral, release the clutch pedal, and try again.
Recommendations for Shifting
Upshifting
For normal acceleration, we recommend these shift points.
| | |
| --- | --- |
| Gear | Vehicle speed |
| 1 to 2 | 21 km/h (13 mph) |
| 2 to 3 | 39 km/h (24 mph) |
| 3 to 4 | 55 km/h (34 mph) |
| 4 to 5 | 78 km/h (49 mph) |
For cruising
| | |
| --- | --- |
| Gear | Vehicle speed |
| 1 to 2 | 18 km/h (11 mph) |
| 2 to 3 | 29 km/h (18 mph) |
| 3 to 4 | 47 km/h (29 mph) |
| 4 to 5 | 68 km/h (42 mph) |
Downshifting
When you must slow down in heavy traffic or on a steep upgrade, downshift before the engine starts to overwork. This reduces the chance of stalling and gives better acceleration when you need more speed.
On a steep downgrade, downshifting helps maintain safe speed and prolongs brake life.
See also:
Installing Child-Restraint Systems
Accident statistics reveal that a child is safer in the rear seat. The front passenger's seat is clearly the worst choice for any child under 12, and with rear-facing childrestraint systems it is ...
Convenient Use of the Hands-Free System
qPhone book usage Phone book registration Phone numbers can be registered to the Bluetooth Hands-Free phone book. NOTE: Do this function only when parked. It is too distracting to attempt while ...
Dashboard and Interior Overview
Dashboard and Interior Overview 1 - Power window switches 2 - Lighting control 3 - Turn and lane-change signals 4 - Instrument cluster 5 - Air bags 6 - Wiper and washer lever 7 - Hazard warni ...