Tiedown Hook
CAUTION:
Don't use the tiedown hook under the rear for towing.
It is designed ONLY for tying down the vehicle when it's being transported. Using it for towing will damage the bumper.
Tiedown Hook-Front
1. Remove the tiedown eyelet and the lug wrench from the trunk.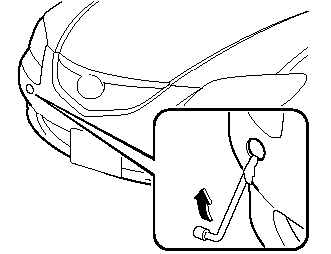 2. Wrap the lug wrench with a soft cloth to prevent damage to the bumper and open the cap located on the front bumper.
CAUTION:
The cap cannot be completely removed. Do not use excessive force as it may damage the cap or scratch the painted bumper surface.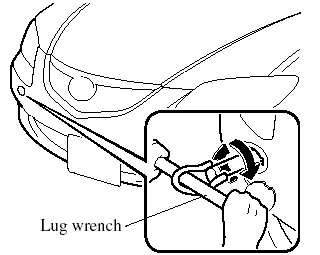 3. Securely install the tiedown eyelet using the lug wrench.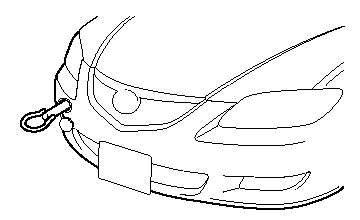 4. Hook the tying rope to the tiedown eyelet.
CAUTION:
If the tiedown eyelet is not securely tightened, it may loosen or disengage from the bumper when tying down the vehicle. Make sure that the tiedown eyelet is securely tightened to the bumper.
See also:
Driving Sideways and Other Assets
As always, the MX-5 has rear-wheel drive with excellent front/rear weight distribution. At roughly 52/48 (51/49 with the hardtop), its bias is toward slight understeer, which keeps things safe. An ...
After Getting In
- Are all doors closed and locked? - Is the seat adjusted properly? - Are the inside and outside mirrors adjusted? - Is everyone's seat belt fastened? - Check all gauges. - Check all warning lig ...
Uniform Tire Quality Grading System (UTQGS)
This information relates to the tire grading system developed by the U.S. National Highway Traffic Safety Administration for grading tires by tread wear, traction, and temperature performance. ...