Towing Description
We recommend that towing be done only by an Authorized Mazda Dealer or a commercial tow-truck service.
Proper lifting and towing are necessary to prevent damage to the vehicle.
Government and local laws must be followed.
A towed vehicle usually should have its drive wheels (front wheels) off the ground. If excessive damage or other conditions prevent this, use wheel dollies.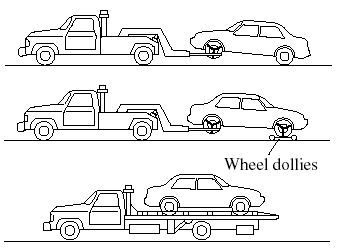 When towing with the rear wheels on the ground, release the parking brake.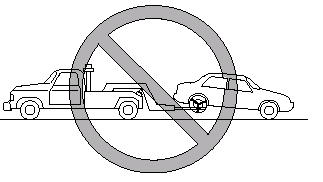 CAUTION:
Do not tow the vehicle pointed backward with driving wheels on the ground. This may cause internal damage to the transaxle.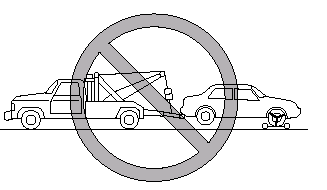 CAUTION:
Do not tow with sling-type equipment. This could damage your vehicle. Use wheel-lift or flatbed equipment.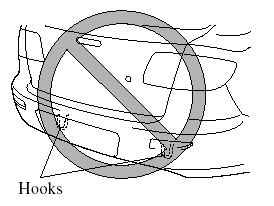 CAUTION:
Do not use the hooks under the rear bumper for towing and tying down, as they cannot hold the load and it will damage the bumper.
See also:
Customer Assistance (Mexico)
Your complete and permanent satisfaction is our business. We are here to serve you. All Authorized Mazda Dealers have the knowledge and the tools to keep your Mazda vehicle in top condition. If ...
Operation Using Advanced Key Functions
Keyless Entry System This system uses the more traditional keyless entry buttons to remotely lock and unlock the doors and opens the trunk lid, and opens the power windows and the moonroof. It c ...
Cargo
Fold all the passenger seats down, and the Mazda5 has a clear advantage over competitors, with 89.3 cubic feet of cargo volume. The seven-seat Rondo and RAV4 have 73.6 cubic feet and 73.0 cubic fe ...