Sunvisors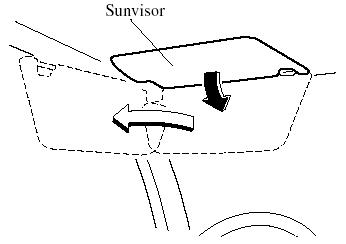 When you need a sunvisor, lower it for use in front or swing it to the side.
Vanity Mirrors
To use the vanity mirror, lower the sunvisor.
If your vehicle is equipped with a vanity mirror light, it will illuminate when you open the cover.
See also:
How the Air BagsWork
How the Front Air BagsWork When air bag crash sensors detect a frontal impact of greater than moderate force, an electrical current is sent to the inflators. Gases are produced to inflate the fro ...
Importer/Distributor
U.S.A. Mazda North American Operations 7755 Irvine Center Drive Irvine, CA 92618-2922 U.S.A. P.O. Box 19734 Irvine, CA 92623-9734 U.S.A. TEL: 1 (800) 222-5500 (in U.S.A.) (949) 727-1990 (outsid ...
Mazda MX-5 2009
If you don't like fun, if you prefer to mope about and wallow in your own misery, you're going to have to skip the Mazda MX-5. That might seem easy, because you probably don't know that "MX-5 ...