Rear Window Defroster
The rear window defroster clears frost, fog, and thin ice from the rear window.
The ignition switch must be in the ON position.
Press the switch to turn on the rear window defroster. The rear window defroster operates for about 10―15 minutes and turns off automatically.
The indicator light illuminates during operation.
To turn off the rear window defroster before the 10―15 minutes has elapsed, press the switch again.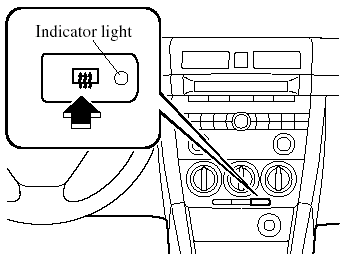 Manual Type Air-Conditioning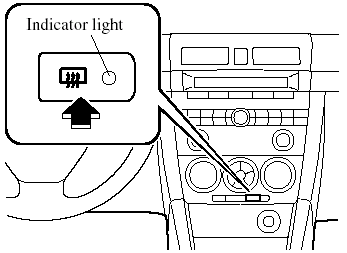 Fully Automatic Type Air-Conditioning
CAUTION:
Do not use sharp instruments or window cleaners with abrasives to clean the inside of the rear window surface. They may damage the defroster grid inside the window.
NOTE:
This defroster is not designed for melting snow.
If there is an accumulation of snow on the rear window, remove it before using the defroster.
Mirror Defroster *
* Some models.
To turn on the mirror defrosters, turn the ignition switch to the ON position and press the rear window defroster switch.
See also:
Fuel Requirements
* U.S. federal law requires that octane ratings be posted on gasoline station pumps. Vehicles with catalytic converters or oxygen sensors must use ONLY UNLEADED FUEL, which will reduce exhaust ...
Seat Belt Warning Light/Beep
The seat belt warning light illuminates and a beep sound will be heard if the driver's seat belt is not fastened when the ignition switch is turned to the ON position. Conditions of operation ...
Fuses
Your vehicle's electrical system is protected by fuses. If any lights, accessories, or controls don't work, inspect the appropriate circuit protector. If a fuse has blown, the inside element will ...