Floor Mat
WARNING:
Make sure the floor mats are hooked on the retention pins to prevent them from bunching up under the foot pedals:
Using a floor mat that is not secured is dangerous as it will interfere with the accelerator and brake pedal operation, which could result in an accident.
Do not install two floor mats, one on top of the other, on the driver's side: Installing two floor mats, one on top of the other, on the driver's side is dangerous as the retention pins can only keep one floor mat from sliding forward.
In using a heavy duty floor mat for winter use always remove the original floor mat.
Loose floor mat(s) will interfere with the foot pedal and could result in an accident.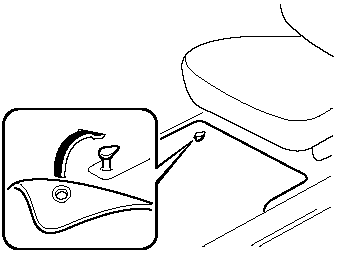 When setting a floor mat, position the floor mat so that its eyelets and inserted over the pointed end of the retention posts.
See also:
Manual Transmission Operation
Manual Transmission Shift Pattern The vehicle is equipped with either a 5- speed or 6-speed manual transmission. The shift pattern for each is shown above. Depress the clutch pedal all the way d ...
Meters and Gauges
(Black-out meter) When the ignition switch is in the ON position, the dashboard gauges illuminate. 1. Speedometer. 2. Odometer, Trip Meter and Trip Meter Selector. 3. Tachometer. 4. Engine Co ...
Fog Lights
* Some models. The fog lights help you to see as well as to be seen. The headlights must be turned on to turn on the fog lights. To turn the fog lights on, rotate the fog light switch to the po ...