Floor Mat
WARNING:
Make sure the floor mats are hooked on the retention pins to prevent them from bunching up under the foot pedals:
Using a floor mat that is not secured is dangerous as it will interfere with the accelerator and brake pedal operation, which could result in an accident.
Do not install two floor mats, one on top of the other, on the driver's side: Installing two floor mats, one on top of the other, on the driver's side is dangerous as the retention pins can only keep one floor mat from sliding forward.
In using a heavy duty floor mat for winter use always remove the original floor mat.
Loose floor mat(s) will interfere with the foot pedal and could result in an accident.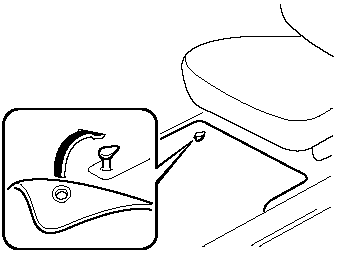 When setting a floor mat, position the floor mat so that its eyelets and inserted over the pointed end of the retention posts.
See also:
Fully Automatic Type
Climate control information is displayed on the information display. Control Switches AUTO switch By pressing the AUTO switch the following functions will be automatically controlled in accor ...
Operating Tips for Audio System
WARNING: Do not adjust the audio control switches while driving the vehicle: Adjusting the audio while driving the vehicle is dangerous as it could distract your attention from the vehicle opera ...
Fuses
Your vehicle's electrical system is protected by fuses. If any lights, accessories, or controls don't work, inspect the appropriate circuit protector. If a fuse has blown, the inside element will ...