Wiper Blades
CAUTION:


Hot waxes applied by automatic
car washers have been known to affect the wiper's ability to clean windows.

To prevent damage to the wiper
blades, don't use gasoline, kerosene, paint thinner, or other solvents on or near them.
Contamination of either the windshield or the blades with foreign matter can reduce wiper effectiveness. Common sources are insects, tree sap, and hot wax treatments used by some commercial car washes.
If the blades are not wiping properly, clean the window and blades with a good cleaner or mild detergent; then rinse thoroughly with clean water. Repeat if necessary.
Replacing Windshield Wiper Blades
When the wipers no longer clean well, the blades are probably worn or cracked.
Replace them.
CAUTION:
To prevent damage to the wiper arms and other components, don't try to sweep the wiper arm by hand.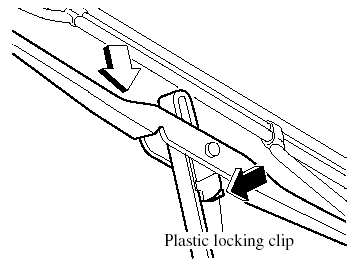 1. Raise the wiper arm and turn the blade assembly to expose the plastic locking clip.
Compress the clip and slide the assembly downward; then lift it off the arm.
CAUTION:
To prevent damage to the windshield let the wiper arm down easily, don't let it slap down on the windshield.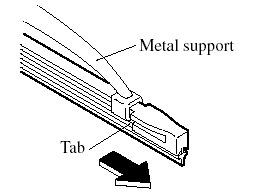 2. Hold the end of the rubber and pull until the tabs are free of the metal support.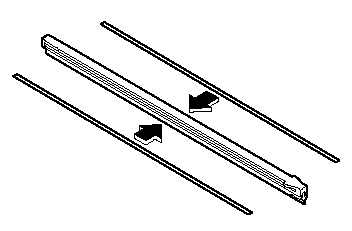 3. Remove the metal stiffeners from each blade rubber and install them in the new blade.
CAUTION:


Don't bend or discard the
stiffeners. You need to use them again.

If the metal stiffeners are
switched, the blade's wiping efficiency could be reduced.
So don't use the driver's side metal stiffeners on the passenger's side, or vice versa.

Be sure to reinstall the metal
stiffeners in the new blade rubber so that the curve is the same as it was in the old blade rubber.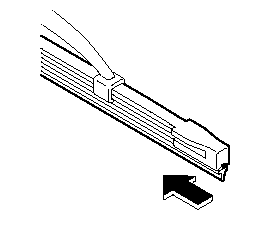 4. Carefully insert the new blade rubber.
Then install the blade assembly in the reverse order of removal.
NOTE:
Install the blade so that the tabs are toward the bottom of the wiper arm.
See also:
Rear Seat
WARNING: Do not stack cargo higher than the seatbacks or place articles on the rear package tray or on the luggage compartment cover: Stacking luggage or other cargo higher than the seatbacks, a ...
Interior Equipment (View A)
1. Power window lock switch. 2. Power window switches. 3. Door-lock knob. 4. Power door lock switch. 5. Outside mirror switch. 6. Headlight leveling switch. 7. TCS-OFF switch. 8. Lighting con ...
Safety
Standard safety features include: * All-disc antilock brakes * Electronic stability system * Side-impact airbags for the front seats * Side curtain airbags for all three rows * Tire pressure mon ...