Washer Fluid
qInspectingWasher Fluid Level
WARNING:
Use only windshield washer fluid or plain water in the reservoir: Using radiator antifreeze as washer fluid is dangerous. If sprayed on the windshield, it will dirty the windshield, affect your visibility, and could result in an accident.
Using Washer Fluid Without Anti-freeze Protection in Cold Weather: Operating your vehicle in temperatures below 4 degrees C (40 degrees F) using washer fluid without anti-freeze protection is dangerous as it could cause impaired windshield vision and result in an accident. In cold weather, always use washer fluid with anti-freeze protection.
NOTE:
State or local regulations may restrict the use of volatile organic compounds (VOCs), which are commonly used as anti-freeze agents in washer fluid. A washer fluid with limited VOC content should be used only if it provides adequate freeze resistance for all regions and climates in which the vehicle will be operated.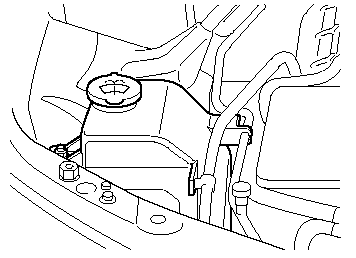 Inspect fluid level in the washer fluid reservoir; add fluid if necessary.
Use plain water if washer fluid is unavailable.
But use only washer fluid in cold weather to prevent it from freezing.
See also:
Maintenance and Care
How to keep your Mazda in top condition. ...
Overview
Mazda CX-7 is one of the world's first production SUVs to combine a sporty design and driving experience with SUV practicality and roominess. Since its launch in 2006, this unique sports crossover ...
Customer Assistance (Puerto Rico)
Your complete and permanent satisfaction is our business. That is why all Authorized Mazda Dealers have the knowledge and the tools to keep your Mazda vehicle in top condition. If you have any qu ...