Scheduled Maintenance (USA, Canada, and Puerto Rico)
Follow Schedule 1 if the vehicle is operated mainly where none of the following conditions
apply.
- Repeated short-distance driving - Driving in dusty conditions - Driving with extended use of brakes - Driving in areas where salt or other corrosive materials are used - Driving on rough or muddy roads - Extended periods of idling or low-speed operation - Driving for long periods in cold temperatures or extremely humid climates - Driving in extremely hot conditions - Driving in mountainous conditions continually If any do apply, follow Schedule 2 (Canada and Puerto Rico residents follow Schedule 2).
NOTE:
After the prescribed period, continue to follow the described maintenance at the recommended
intervals.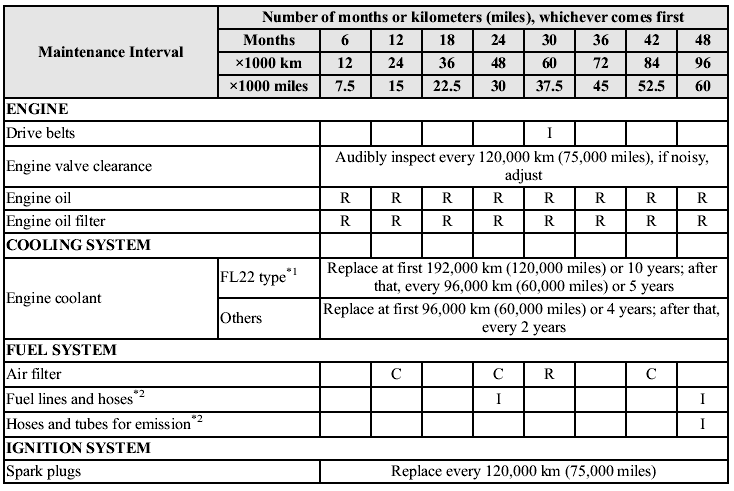 Schedule 1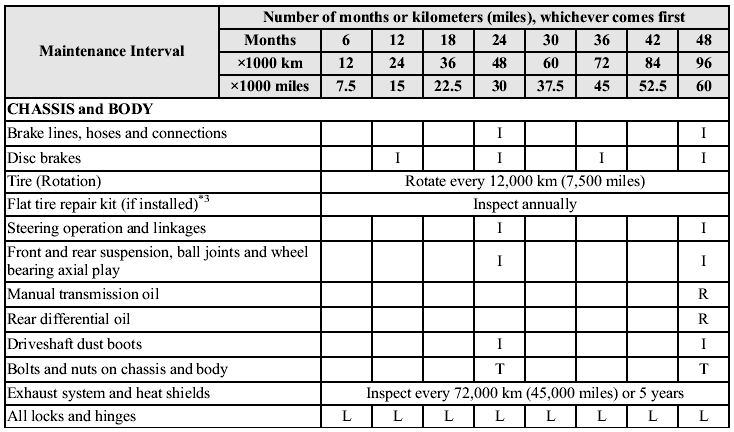 Chart symbols:
I: Inspect: Inspect and clean, repair, adjust, fill up, or replace if necessary.
R: Replace
C: Clean
L: Lubricate
T: Tighten
Remarks:
*1 Use FL22 type coolant in vehicles with the inscription "FL22" on the radiator cap itself or the surrounding area. Use FL22 when replacing the coolant.
*2 According to state/provincial and federal regulations, failure to perform maintenance on these items will not void your emissions warranties. However, Mazda recommends that all maintenance services be performed at the recommended time or mileage/kilometer period to ensure long-term reliability.
*3 Check the tire repair fluid expiration date every year when performing the periodic maintenance. Replace the tire repair fluid bottle with new one before the expiration date.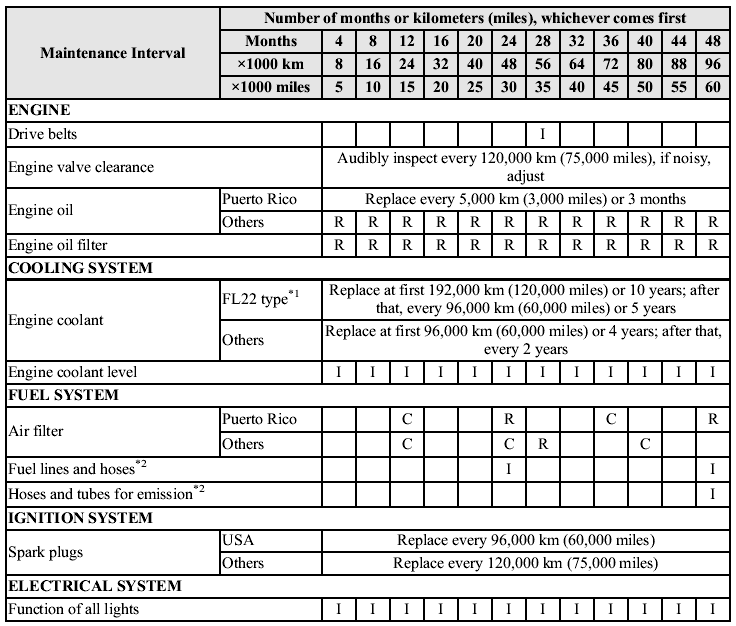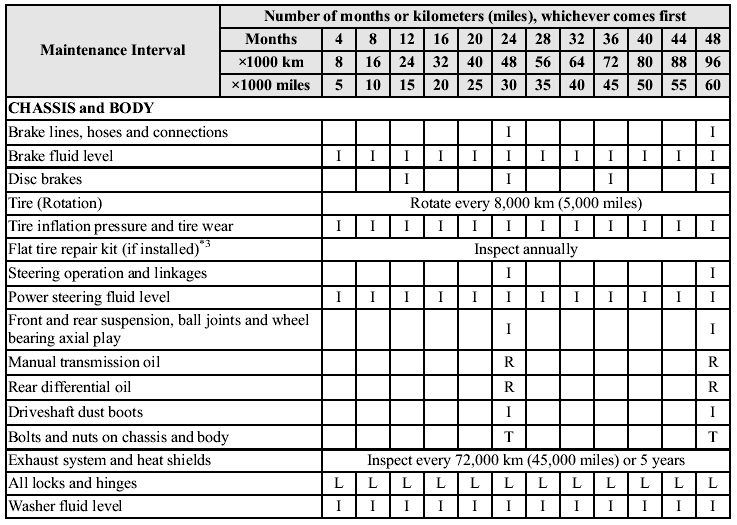 See also:
Floor Mat
WARNING: Make sure the floor mats are hooked on the retention pins to prevent them from bunching up under the foot pedals: Using a floor mat that is not secured is dangerous as it will interfere ...
Overloading
WARNING. Be careful not to overload your vehicle: The gross axle weight rating (GAWR) and the gross vehicle weight rating (GVWR) of your vehicle are on the Motor Vehicle Safety Standard Label on ...
New Equipment Added to a Long List of Premium Features
The facelifted Mazda CX-7 has an extensive standard equipment package: AM/FM radio and CD player with MP3 capability, one-touch power front and rear windows, remote central locking, cruise control ...