Floor Mat
WARNING:
Make sure the floor mats are hooked on the retention pins to prevent them from bunching up under the foot pedals:
Using a floor mat that is not secured is dangerous as it will interfere with the accelerator and brake pedal operation, which could result in an accident.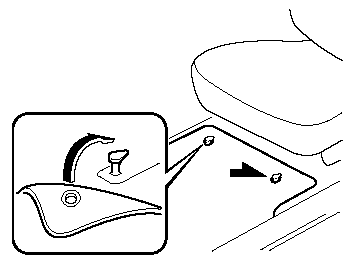 Do not install two floor mats, one on top of the other, on the driver's side: Installing two floor mats, one on top of the other, on the driver's side is dangerous as the retention pins can only keep one floor mat from sliding forward.
In using a heavy duty floor mat for winter use always remove the original floor mat.
Loose floor mat(s) will interfere with the foot pedal and could result in an accident.
When setting a floor mat, position the floor mat so that its eyelets are inserted over the pointed end of the retention posts.
See also:
Specifications
Engine Electrical System *1 ex factory CAUTION: When cleaning the iridium plugs, do not use a wire brush. The fine particulate coating on the iridium alloy and platinum tips could be damaged. ...
Washer Fluid
InspectingWasher Fluid Level WARNING: Use only windshield washer fluid or plain water in the reservoir: Using radiator antifreeze as washer fluid is dangerous. If sprayed on the windshield, it w ...
HomeLink Wireless Control System
NOTE: HomeLink and HomeLink house are registered trademarks of Johnson Controls. The HomeLink system replaces up to 3 hand-held transmitters with a single builtin component in the auto-dimming ...