Power Steering Fluid
Inspecting Power Steering Fluid Level
CAUTION:
To avoid damage to the power steering pump, don't operate the vehicle for long periods when the power steering fluid level is low.
NOTE:
Use specified power steering fluid.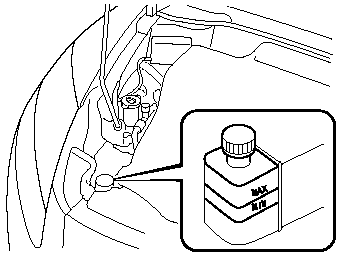 Inspect the fluid level in the reservoir at each engine oil change with the engine off and cold. Add fluid if necessary; it does not require periodic changing.
The level must be kept between MAX and MIN.
Visually examine the lines and hoses for leaks and damage.
If new fluid is required frequently, consult an Authorized Mazda Dealer.
See also:
Warning/Indicator Lights
Warning/Indicator lights will appear in any of the highlighted areas Signal Warning/Indicator Lights Brake System Warning Light Charging System Warning Light ...
Brake System
Foot Brake Your Mazda has power-assisted brakes that adjust automatically through normal use. Should power-assist fail, you can stop by applying greater force than normal to the brake pedal. But ...
Engine Coolant
qInspecting Coolant Level WARNING: Do not use a match or live flame in the engine compartment. DO NOT ADD COOLANT WHEN THE ENGINE IS HOT: A hot engine is dangerous. If the engine has been runnin ...