Brake Fluid
Inspecting Brake Fluid Level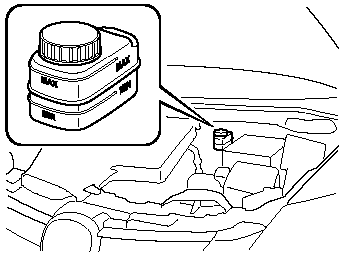 Inspect the fluid level in the reservoir regularly. It should be kept at MAX.
The level normally drops with accumulated distance, a condition associated with wear of brake linings. If it is excessively low, have the brake system inspected by an Authorized Mazda Dealer.
Adding Brake Fluid
WARNING:
Be careful not to spill brake fluid on yourself or on the engine: Spilled brake fluid is dangerous. If it gets in your eyes, they could be seriously injured. If this happens, immediately flush your eyes with water and get medical attention.
Brake fluid spilled on a hot engine could cause a fire.
If the brake fluid level is low, have the brakes inspected:
Low brake fluid levels are dangerous.
Low levels could signal brake lining wear or a brake system leak. Your brakes could fail and cause an accident.
If the fluid level is low, add fluid until it reaches MAX.
Before adding fluid, thoroughly clean the area around the cap.
CAUTION:


Brake fluid will damage painted
surfaces. If brake fluid does get on a painted surface, wash it off with water immediately.

Using nonspecified brake fluids will damage the
system. Mixing different fluids will also damage it.
If the brake system frequently requires new fluid, consult an Authorized Mazda Dealer.
See also:
Uniform Tire Quality Grading System (UTQGS)
This information relates to the tire grading system developed by the U.S. National Highway Traffic Safety Administration for grading tires by tread wear, traction, and temperature performance. ...
CX-9 in the Market
Full-size truck-based SUVs were wildly popular in the '90s, but crossover SUVs are (for the moment) the hot segment in the car business. The 2007 model year saw the introduction of more than 10 ne ...
New for 2009
The CX-9 receives minor equipment changes for 2009. A trip computer is standard on all models, and all-wheel-drive versions now come standard with a towing package. Sirius Satellite Radio and Blue ...