Bottle Holder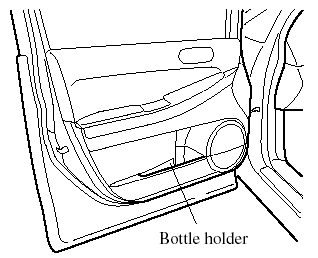 Bottle holders are on the inside of the front doors.
CAUTION:
Do not use the bottle holders for containers without caps. The contents may spill when the door is opened or closed
See also:
Mileage, Safety & Reliability
As I've said, the Mazda2 is related to the Fiesta, but one area where there's a noticeable difference between the two is in the mileage department. Where the Mazda gets an estimated 27-29 mpg in t ...
Fuel Requirements
Vehicles with catalytic converters or oxygen sensors must use ONLY UNLEADED FUEL, which will reduce exhaust emissions and keep spark plug fouling to a minimum. 2.3-liter turbocharger engine Your ...
Power Steering
Power steering is only operable when the engine is running. If the engine is off or if the power steering system is inoperable, you can still steer, but it requires more physical effort. If the s ...