Turn and Lane-Change Signals
Turn Signal
Move the signal lever down (for a left turn) or up (for a right turn) to the stop position. The signal will self-cancel after the turn is completed.
If the indicator light continues to flash after a turn, manually return the lever to its original position.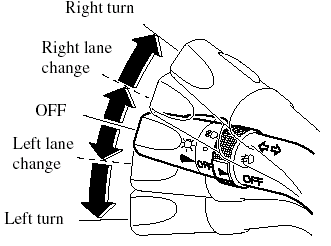 Green indicators on the dashboard show which signal is working.
Lane-change signals
Move the lever slightly toward the direction of the change ―until the indicator flashes― and hold it there. It will return to the off position when released.
NOTE:
If an indicator light stays on without flashing or if it flashes abnormally, one of the turn signal bulbs may be burned out.
See also:
Cup Holder
WARNING: Never use a cup holder to hold hot liquids while the vehicle is moving: Using a cup holder to hold hot liquids while the vehicle is moving is dangerous. If the contents spill, you could ...
Safety
As well as improving passive safety technologies, Mazda focused on enhancing active safety equipment that supports the recognition and avoidance of hazards. Specifically, the cutting edge active s ...
Importer/Distributor
U.S.A. Mazda North American Operations 7755 Irvine Center Drive Irvine, CA 92618-2922 U.S.A. P.O. Box 19734 Irvine, CA 92623-9734 U.S.A. TEL: 1 (800) 222-5500 (in U.S.A.) (949) 727-1990 (outsid ...