SeatWarmer
The front seats are electrically heated. The ignition must be in the ON position.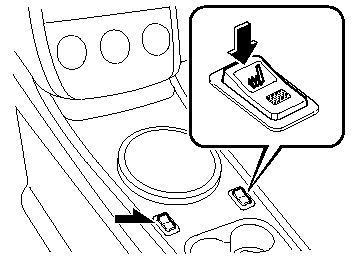 Press the switch to turn the seat warmer on or off. When the switch is in the ON position, the indicator light will come on.
WARNING:


Be careful when using the seat
warmer. The heat from the seat warmer may be too hot for some people, as indicated below, and could cause a low-temperature burn.

Infants, small babies, elderly
people, and physically
challenged people.

People with delicate skin.

People who are excessively
fatigued.

People who have taken sleepinducing
medicine such as.
sleeping pills or cold medicine

Do not use the seat warmer with
anything having high moistureretention ability such as a blanket or cushion on the seat. The seat may be heated excessively and cause a low-temperature burn.

Do not use the seat warmer even
when taking a short nap in the vehicle. The seat may be heated excessively and cause a lowtemperature burn.

Do not place heavy objects with
sharp projections on the seat, or insert needles or pins into it. This could cause the seat to become excessively heated and result in injury from a minor burn.
CAUTION:
Do not use organic solvents such as benzene or gasoline to clean the seat.
It may damage the seat surface and the heater.
NOTE:
Use the seat warmer when the engine is running, and do not continue to use it for a long period.
The temperature of the seat warmer cannot be adjusted because the temperature of the seat is controlled by the thermostat.
See also:
Cell Phones Warning
WARNING. Please comply with the legal regulations concerning the use of communication equipment in vehicles in your State or Province: Use of any electrical devices such as cell phones, computers, ...
Emission Control System
Your vehicle is equipped with an emission control system (the catalytic converter is part of this system) that enables your vehicle to comply with existing exhaust emissions requirements. WARNING ...
SUV Practicality with Improved Storage Space
The facelifted Mazda CX-7 has plenty of room for five adults to travel in comfort with their luggage. It is an ideal vehicle for active lifestyles with rear seats that fold down 60/40 by pulling o ...